This Issue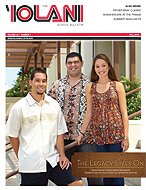 The Legacy Lives On - Eddie Hamada Scholarship Recipients Derrick Low '04, Issac Ickes '04, Leinani Keanini '08
Read the full story »
Fall 2010 - Other News
| Alumni
Class of 1960: Reunited 50 Years Later
By the 'Iolani Class of 1960 Reunion Planning Committee
When 40 members of the Class of 1960 stood to be recognized during the 2010 'Iolani graduation ceremony, it was like a culmination of lifelong bonds coming together again.

The moment was also the pinnacle of more than year's efforts to make the celebration of the 50th anniversary of our own 'Iolani graduation a memorable one.
Of the 79 members of our graduating class (the actual total was 88, but 9 have passed away), 40 were able to accept the Headmaster's invitation to be honored at 'Iolani commencement five decades after our own.
Decked out in matching aloha shirts, our class was an impressive sight as young ladies in the Class of 2010 presented us with leis. As with our commencement, the graduation ceremony of modern 'Iolani still displays respect and decorum and reflects the importance of the Episcopal Church in Hawaii.

Classmates wore matching aloha shirts to signify class spirit at the commencement ceremony.
But there were a lot of changes too. We graduated only boys. The Class of 2010 is co-ed! Co-education changed the school for the better and the accomplishments of the class in both curricular and extra-curricular areas were nothing short of outstanding. Yet, the foundation laid by the classes that came before, including the proud members of the Class of 1960, were all acknowledged in one form or another that day. 
It was truly a day to remember for which planning began much earlier.
THE BEGINNING


Warren Ching, Ronald Lim, Gary Kagimoto, LeRoy Ichida, Alvin Yamashiro, David Yoshioka and Roy Kaneshiro
First came meetings with Director of Alumni Relations
Mike Moses
'93  and Development Director
Chris Shimabukuro
'85 from the Institutional Advancement Office
Early on, the class decided the Sons of 'Iolani would spearhead reunion planning. They included
Mel Chow
,
Nelson Jones
,
Art Katahara
,
Willy Matsuura
,
Miles Nakama
, and
Paul Shigenaga
. Mel and Paul served as Co-Chairs.
Other classmates who are Sons of 'Iolani are
Dennison Chun
,
George Kahikina
,
David Lau
,
Bruce Matsumoto
(deceased),
Scott Shirai
,
Albert Sing
,
Paul Tanaka
,
Stanley Uchim
a (deceased),
John Yee
and
Philip Young
.
A YEAR OF EVENTS
Throughout the year, numerous gatherings for our class took place: e.g. Dr. Bunny Watanabe's evening socials at his dental office, Mel Chow's annual Chinese New Year's dinner for the class, weekly golf outings, and other social events, not mentioned for confidentiality, which served to urge participation at our reunion socials and contributing to our class gift.


Mel Izumi, Carl Watanabe, Lloyd Kagawa and Nathan Minn
Success was achieved beyond expectations.
Classmates attended at least one event at different times and places throughout the year. Many attended more.
Paul Tanaka
came to his first event since 1960 when he arrived at Bunny's on May 7, 2010. There were a total of 24 classmates there.
A few weeks later, a golf outing on June 3 included 18 classmates. Even more gathered at our 19th Hole at a local watering place, including classmates from the mainland
Bill Madden
,
Mike Tom
,
Bobby Yamato
, and
John Yee
. All regaled in many stories of our 'Iolani days, no one caring that they had heard the same stories dozens of times before. One of the most vivid was of an unfortunate teacher who, while proctoring study hall, locked himself in the locker room of the World War II hangar that doubled as our gym. A big mahalo to
Dave Yoshioka
, who chaired the golf tournament, with 18 duffers participating, and
Harold Gusukuma
, who chaired the 19th Hole gathering.
Roy Kaneshiro
prevailed as low net winner of the tournament.


Wayne Minami, Colleen Minami, Diana Yee, John Yee, Melvia Kawashima, Karen Kondo, James Kawashima and Steve Kondo
A dinner banquet for the class and their spouses at Morton's Steak House was held on June 6. A total of 67 classmates, spouses and significant others attended. The program, emceed by
Ron Lim
, started with words of welcome by Mel Chow followed by an Invocation by
Erik Takai
.
Steve Kondo
, chair of the gift committee, was thanked for his leadership in raising over $77,000 for the school. Steve, in turn, thanked each member who contributed to that total.
The after-dinner program started with Jim Kawashima's synopsis of the school's recent history such as the election of the Rev.
David P. Coon
as Headmaster and the significant changes he brought such as coeducation and the growth of the school's endowment from $250,000 to $150 million.
Jim also described how current Headmaster Dr.
Val Iwashita
'67 took 'Iolani to even greater heights as it gained national recognition in a number of different disciplines. Dr. Iwashita himself brought recognition to the school and Hawaii by serving as a past President of the Board of Directors of the National Association of Independent Schools.
The evening ended with
Willie Matsuura
awarding prizes and from-the-heart closing comments by "Shag" Shigenaga.


Ronald Lim, Steve Kondo, Paul Shigenaga and Mel Chow
THE AFTERMATH
The last day of scheduled events was June 7 beginning with a campus tour. Classmates visited the Weinberg Building, Kozuki Stadium and a parking structure for more than 400 cars. 
The tour led to St. Alban's Chapel where, as students, we attended chapel service every day. As Rev.
Daniel Leatherman
's greeted us with "Welcome Home," fond memories were evoked. A service was held to honor our departed classmates.
Jim Kawashima
gave the First Reading from the Book of Joshua and
Al Yamashiro
read the names of our departed classmates:
Clayton K. Chock
,
Lester D. Kaneko
,
Bruce T. Matsumoto
,
Russell M. Mokulehua
,
Michael M. Nakamura
,
Earl T. Takeuchi
,
Leslie M. Tokuza
,
Charles Y. Tomisato
and
Stanley I. Uchima
. Headmaster Dr.
Val Iwashita
and wife
Cynthia
graciously attended the service.
The final event was a luncheon hosted by the Iwashitas, who made us feel at home, 50 years after graduating. We departed that day with bittersweet feelings, hoping that the reunion would continue, but basking in the remembrances that only a place such as 'Iolani imparts.  The euphoria of the week together still lingers.
On behalf of Co-Chairs Chow and Shigenaga and the entire Class of 1960, our sincerest appreciation goes to 'Iolani School and Headmaster Dr. Iwashita for allowing us to have our greatest reunion ever. Special thanks to Mike Moses and Chris Shimabukuro for making our jobs so much easier.
'Iolani No Ka Oi.
Comments from Readers
RONALD LIM

WHAT A BEAUTIFUL, WONDERFUL, FUN CELEBRATION FOR THE CLASS OF 1960. CAN'T THANK SHAG, MEL, ETC. FOR ALL THE GREAT COORDINATION OF EVENTS. IT WAS A MOST MEMORABLE AND TRULY ONCE IN OUR LIFE TIME EVENT THAT WE WILL ALL REMEMBER AND CHERISH...THANKS, RON

Jim Kawashima

I add a rousing "AMEN" to Ron Lim's comments, and make one other observation: I have been a faithful attendee at every Commencement since 1981, save one when our son was graduating from college on the mainland, almost 30 year's worth, and it seems like the 50th-year class has been looking younger and younger each year, the Class of '60 being no exception. Mahalo to all who participated. A'hui hou. Jimmy.