This Issue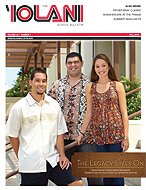 The Legacy Lives On - Eddie Hamada Scholarship Recipients Derrick Low '04, Issac Ickes '04, Leinani Keanini '08
Read the full story »
Fall 2010 - Department
| Headmaster's Column
Headmaster's Column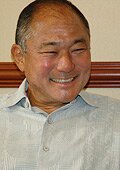 The words "Building Futures" have special meaning for 'Iolani.
They gave us the title for our most recent capital campaign, the one that allowed us to open the Weinberg Building and the Wong Pavilion in 2003. They describe what we do, day in and day out: We Build Futures for the children of Hawai'i. They also point our eyes in the right direction. They keep our students at the focus of our efforts; the building blocks we put in place today will shape their tomorrows.
The work goes on. We know we must continue to work on the details, even as we keep our eye on the big picture. 
The purchase of the 5.5 acres that border Date and La'au Streets adjacent to our campus is a case in point. The development of this land may be years away, but its potential has expanded our thinking and given us the power to enhance the educational experience of future students. It is a significant event in the history of 'Iolani.
Other changes also bode well for our future:
Last summer, the

Board of Governors

revised its bylaws to allow new members to join what was already a talented group of individuals. The board added five individuals, together with the election of new officers, including Chairwoman, Jenai Wall.  Collectively and individually they have contributed to the planning and decisions that will build our future. This adjustment gives us a balance between a reassuring stability and a stimulating dynamic created by new ideas and perspectives. 
The

Center for Applied Studies

is well on its way to becoming a reality. Its genesis comes from the need for educational processes that allow students to experience the world as well as to learn about it. Activities in applied studies will bring greater relevance and meaning to what is studied in the classroom.  Existing programs to be housed in the center include robotics, community service/service learning, video production and editing, research, entrepreneurial ventures and technological design. The center will foster innovation, communication, inquiry and service as well as liaisons with the business and intellectual communities.
The

Technology Planning Committee

completed a session this summer to sustain our growth in this area. We recognize that the world has changed and that the children we teach today come to us with unique habits and skills. We also know that technology is but one of the many tools in our teaching kit, albeit an important one. Infrastructure, professional development, pedagogical approaches, community resources and funding are all parts of our IT examination. In coming months we will involve a broad cross section of teachers, staff members, parents and students in the planning process. 
We must never forget, however, that education is a people business.

We are excited about these ideas and developments, knowing that they will strengthen 'Iolani School and enrich the lives of the children we serve. 
We must never forget, however, that education is a people business. The future we build will reflect the quality of the teachers, counselors, coaches and advisers who come into daily contact with our students. That is what will ultimately determine our effectiveness as an educational institution.
We are fortunate to have an excellent faculty. Their talents and skills, combined with a talented and hard working student body, have made us the fine school we are today. Our number one priority is to support what they do best: teach and learn. I am confident that together we will build a future even brighter than our past. We are moving in the right direction.
Comments from Readers
Herbert Hamada

I am so glad to read your statement that education is a people business. Recently the news reported on a new public school building and how it would improve education. Buildings do not teach our children.