This Issue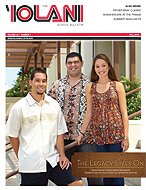 The Legacy Lives On - Eddie Hamada Scholarship Recipients Derrick Low '04, Issac Ickes '04, Leinani Keanini '08
Read the full story »
Fall 2010 - Feature
Fifteenth Annual A Touch of 'Iolani
'Iolani's campus came alive with festivity as the 15th annual A Touch of 'Iolani took place on August 7. The Class of '91, along with the Alumni Association, pulled together a successful "Through the Grapevine" themed event that helped raise funds for the Alumni Association scholarship. Nearly 1,000 alumni and friend enjoyed great food, a silent auction and live entertainment. During a special presentation, Headmaster Dr.
Val Iwashita
'67 presented the Alumni Service Award to
Cal Miyamoto
'58, a longtime volunteer and supporter of the school.