This Issue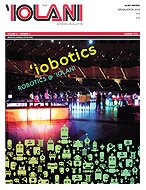 'Iobotics: The Roar of Scoreboards, the Flash of the Crowd
Read the full story »
Summer 2010 - Department
| Pictures from the Past
Pictures from the Past
More than 60 years ago, 'Iolani School's campus was once located in Nu'uanu and was much smaller than the current campus of today. School leaders, though, had the foresight to acquire a larger piece of land in Mo'ili'ili where the current campus is now in anticipation of the growing needs that a fine school would require. 'Iolani began the transition from Nu'uanu to Mo'ili'ili by first relocating classes for younger students in 1946. The entire campus was fully relocated in 1954.
This photo is from the 1944 Ka Mo'olelo O 'Iolani yearbook of the first grade class. Many of these boys eventually went on to graduate from 'Iolani in 1955.
According to the year book, the caption read:
TOP ROW
: A. Seto, N. Kamahoahoa, R. Winnie, J. Murata, R. Kidiyama, D. Kimura;
MIDDLE ROW:
P. Yuen, R. Fujimoto, H. Lee, T. Bower, T. Ishii, V. Goo, E. Soo, R. N. Akiyama, R. Aketani, A. Okita, S. Nishimura, K. Asato, A Hee;
FRONT ROW
: H. Ogawa, W. Lee, W. Park.