This Issue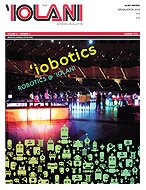 'Iobotics: The Roar of Scoreboards, the Flash of the Crowd
Read the full story »
Summer 2010 - Department
| News from the 'Ohana
Staying Connected
As the school year came to a close on my term as 'Iolani 'Ohana president, I have to say that the experience was a blast!! Since getting involved with 'Iolani 11 years ago during my son's kindergarten year, I thought I had a good handle on what goes on at this wonderful school.


One of the many programs that dozens of 'Ohana volunteers support is "College Life After 'Iolani" held by the College Counseling office. One aspect of the program connects parents of graduates with parents of seniors preparing to leave for college. Pictured, parents Tina Tamai and James Tamai (son Robert '09 now at Harvard and daughter Katharine '06) and Donna Fujimoto-Saka and Alan Saka (daughter Emily '09 now at Boston University and son Kevin '11) spoke to parents of the Class of 2010 whose children will be heading to the north east for college.
But being involved with the 'Ohana organization this past year, I learned even more. I attended events that I wouldn't normally have gone to, learned about new opportunities that the school is creating, and worked with people who were generous with their ideas and opinions. This, in return, made it easy for me to try new things and get out of my "box."


Lisa Sakamoto, a member of the 'Iolani Board of Governors, represented the board at the mahalo luncheon, thanking volunteers for their dedication and service to the school.
I'm handing over the president's gavel to extremely capable hands with the in-coming officers: President
Cheryl Wong
, Secretary
Leigh-Ann Yokoyama
and Treasurer
Teri Matsukawa
. We also see many new faces as volunteers once again devote time as grade level representatives and committee chairs. They are vital in connecting our 'Iolani parents and families to the school. I know that the more parents feel and stay connected, the more likely their children will feel the same. I hope that in this next 2010 – 2011 year, more of us will step out of our boxes and experience some of the things that 'Iolani has to offer. Speaking from experience, it's not always comfortable, but it's almost always rewarding.

Incoming and outgoing officers of the 'Ohana gathered at the annual mahalo luncheon on May 24 a Waialae Country Club: Leigh Yokohama, Andrea Ching, Barbara Watanabe, Cheryl Wong, Claire Aniya and Teri Masuwaka.
Barbara L. Watanabe
'Iolani 'Ohana President 2009-2010