This Issue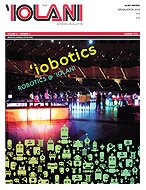 'Iobotics: The Roar of Scoreboards, the Flash of the Crowd
Read the full story »
Summer 2010 - Department
| Alumnus Profile
Christopher Chun
Chirstopher Chun '92


Position:


Executive Director, Hawai'i High School Athletic Association (HHSAA)


Education:


University of Hawai'i at Mānoa, B.A. American Studies; Chaminade University of Honolulu, M.A. Public Administration; University of Hawai'i William S. Richardson School of Law, J.D.


Family:


Wife Jamie; son Kaipo, 7; daughter Kaylie, 1.


Pastimes:


Softball, golf, coaching
Long before
Christopher Chun
'92 dedicated his career to high school sports, he was immortalized in one of his alma mater's most visible sports symbols.
Chun is one of the young boys pictured in the mural that graces the highest wall in 'Iolani's Father Bray Athletic Complex. Along with other boys, he is running full speed, enthusiasm and a love of sports beaming from his face. The mural also depicts 'Iolani sports legends Father Kenneth A. Bray and Eddie Hamada '46.
A Son of 'Iolani, Chun recalls a photographer telling him and his classmates (including Cavan Scanlan '92) to run as fast as they could for the photo. Little did the young boys know that their faces would become emblazoned as art?

In high school, Chun played baseball and football but injuries prevented him from playing at the varsity level so he participated in sports as a fan and supporter.

Today, he is at the helm of the state's largest sports organization. As the recently appointed executive director of the Hawaii High School Athletic Association, Chun is responsible for serving 92 public and private schools as they work cooperatively to support and promote athletics as part of the high school education program.

"Sports teach valuable lessons that complement what's happening in the classroom," Chun says.

HHSAA is comprised of schools from the Interscholastic League of Honolulu, Oahu Interscholastic Association, Big Island Interscholastic Federation, Kauai Interscholastic Federation, and the Maui Interscholastic League. Among its objectives: to promote the educational benefits of interscholastic athletics by increasing participation in a variety of sports and to administer and insure compliance, statewide, with established policies and regulations.

Chun has one full-time assistant and relies on the support and manpower of dozens of volunteers, including coordinators for specific sports. HHSAA is a non-profit that relies on fundraising, sponsors, programs and tournament ticket sales for revenue.

This past May, he spent his days planning and preparing for eight different state tournaments, traveling to neighbor islands and different sports venues.  He must deal with logistics, transportation, eligibility and other legal issues.

"Sports teach valuable lessons that complement what's happening in the classroom,"

Prior to the HHSAA, Chun practiced civil litigation with the law firm of Lyle Hosoda & Associates where he served as general counsel for the OIA. He also assisted the HHSAA through various legal matters.

His new job is something that he has long aspired to do, combining his devotion to the field of law with his love of sports, then to give back to the community in a positive way.

"When I was in law school, I wanted to use my degree in different ways, outside of the box and outside of the scope," Chun says. "Part of the reason I went to law school was because I respected (former HHSAA executive director) Keith Amemiya and what he was doing."

High school sports in Hawaii play a vital role in bringing the community together for the benefit of youths. The lack of professional teams in the islands draws fans towards collegiate and high school athletics.  Sports also contribute to self-esteem, a sense of belonging, and identity. In Hawaii, a person's high school is a lifelong association and, beyond that, high school sports' accomplishments remain with a person long after their playing days, Chun notes.

Chun coaches his son Kaipo's team in the Wai-Kahala Athletic Club baseball league. Along with 'Iolani cafeteria manager Kevin Wada, Chun is one of four Dodgers coaches.  On the team are 'Iolani students Rylie Wada '20, Ryan Higa '21, Kalei Chong '21 and Kala Chong '21. His sister, Sherri Chun Iha '84 is president of the 'Iolani Alumni Association.

When it comes to wearing his HHSAA cap, Chun is the utmost professional, representing public and private schools throughout the islands equally and fairly. What he learned as a youth continues through his dedication today. He carries on an ideal instilled upon him as a student: One Team.