This Issue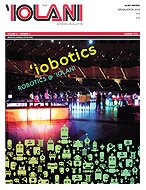 'Iobotics: The Roar of Scoreboards, the Flash of the Crowd
Read the full story »
Summer 2010 - Department
| School in Focus
School in Focus
Science Bowl Winners
'Iolani took top honors at the Hawaii Science Bowl on January 30, beating second place Punahou and third place Maui High. Sponsored by the U.S. Department of Energy, the bowl is a fast-paced question-and-answer competition that requires students have extensive knowledge of all areas of science and mathematics, including chemistry, physics, astronomy, earth science, biology, statistics, algebra, geometry, and calculus. The team won a cash prize for the school's science department.


Traveling to Washington, D.C. for the National Science Bowl included a meeting with Senator Daniel Inouye, left to right, William McQuiston '13, Mark Williams '10, Evan Masutani '10, Senator Inouye, Sean Cockey '10, Mark Grozen-Smith '11, and coach Randyll Warehime.
'Iolani went on to compete in the National Science Bowl from April 29 to May 4 in Washington, D.C..
"It was an honor for us to represent the immense talent of all Hawaii teams," said coach
Randyll Warehime
.
N-o-s-t-a-l-g-i-a Leads to Spelling Bee Win
Eighth grader
Brandan Sakka
'14 won first place in the Honolulu District Spelling Bee on March 3, among a field of 30 students from 16 public and private schools. Sakka first competed in the 'Iolani Spelling Bee when he was in teacher
Cindy Scheinert
's fifith grade class. This year he won the 'Iolani Spelling Bee in December. He was one of two students from the Honolulu District Bee who competed in the Hawaii State Spelling Bee this past March. Sakka's win came in the 12th round when he correctly spelled "nostalgia." Other words he managed easily included "lexicon," "ecru," and "squeamish."
Sakka designated the Lower School Library as the recipient of the $250 honorarium given to the school because of his participation in the State Spelling Bee.
When he presented the check to Lower School librarian
Linda Reser
, he spoke to students about his spelling bee experience and encouraged them to follow in his footsteps. He also thanked teacher
Cindy Scheinert
for helping this "boy who loved words" develop his talent and interest in spelling.
It was the third consecutive year that 'Iolani students have won the Honolulu District Spelling Bee and advanced to the Hawaii State Spelling Bee. The
Honolulu Advertiser
, which sponsors the State Spelling Bee, recognizes these top spellers by presenting honoraria to the spellers' schools. In 2008,
Angelina Yick
'12 designated that the $250 be spent to purchase a new Merriam-Webster Dictionary in both print and CD form to the Upper School Library. In 2009,
Logan Davis
'13 asked that the money provide a thesaurus for each classroom where English 7, English 8, and English 9 are taught.
18th Math League Championship


The varsity math team brought home the Oahu Math League trophy for the 18th consecutive year.
They did it again! The 'Iolani math team went undefeated and won the O'ahu Math League championship for the 18th consecutive year. At the final meet of the year on April 10, the team was led by perfect scorers
Richard Chang
'11,
Sean Cockey
'10,
Teresa Ou
'11,
Mark Williams
'10 and
Andrew Wu
'11.  The varsity amassed 287 points and won by a whopping 76 points. Other team members were
William Chambers
'10,
Hao Chen
'11,
Mitchell Kwock
'12,
Anders Lee
'10 and
Dustin Shigaki
'11. McKinley, Punahou and Kamehameha placed 2nd, 3rd and 4th, respectively.
"Our four senior captains (Chambers, Cockey, Lee and Williams) did a terrific job of organizing and leading this team," said coach and teacher Michael Park. "They were talented, hard-working and humble, and they should be very proud of what they accomplished this year."
Although the junior varsity team of
Yun Ji Im
'12,
Erin Main
'12,
William McQuiston
'13 and
Cordelia Xie
'13 placed second to Punahou at this meet, their running four first place finishes and three second place finishes out ranked McKinley for the league title. It was the junior varsity team's 10th consecutive championship.
Super Bowl of Math


Math Bowl champs Dustin Shigaki '11, Anders Lee '10 and Richard Chang '11
The team of
Dustin Shigaki
'11,
Anders Lee
'10 and
Richard Chang
'11 placed first at the 32nd annual State Math Bowl on May 1 at Maui High with a record breaking perfect score. Kamehameha Kapalama placed second, followed by Mililani and Waiakea. The State Math Bowl is a one-day competition to which high schools send their three best mathletes. This is the sixth math bowl victory in the past seven years for the Raiders and the 11th in the 15 years.
Speaking Japanese from the Heart


Amanda Tsuhako '11, Keileen Fukada '11, Grace Sakurada '10 and Milena Naitoh '10
With grand results, 'Iolani students competed on April 24 in a Japanese Speech Contest sponsored by KZOO radio. Competing against students from public and private schools, they wrote speeches on topics they care about and delivered before a panel of judges.
Amanda Tsuhako
'11 spoke about her big brother.
Keileen Fukada
'11 talked about her experience of dancing hula in New Zealand and won first place in her division.
Grace Sakurada
'10 discussed the differences between Japanese and American business practices.
Milena Naitoh
'10 spoke about Japanese and English language miscues. Keileen took first place at her level in the competition.
Economics Team represented Hawaii at National Competition
As state and regional winners, 'Iolani's economics team competed against five others in the 10th Annual National Economics Challenge on May 24 in New York City. The competition was sponsored by the Council for Economic Education. These six teams defeated 26 high school teams in the National Semifinals to advance to the 2010 National Championship.  The 10th Annual National Economics Challenge started with 1,200 teams in 32 states.
Daisies Give Back to Humane Society
 Daisy Girl Scout Troop #002, based at 'Iolani School, made a donation on May 1 of $500 to the Hawaiian Humane Society after raising the funds through their annual cookie sale. The first graders presented
Sharon Macquoid
of the Hawaiian Humane Society with a check and then enjoyed a tour of the facility.


Back row: Sharon Macquoid of Hawaiian Humane Society Stands with first grade Girl Scouts, back row, Dagney Brand, Miya Haga, Molly Palalay, Melia Lee, Zoe Omura, Rebecca Sakoda, Madeline Heyler; first row, Marianna Fong, Haley Hobbs, Kiana Hockenberger-Leong, and Chloe Okimura. (Not pictured were Lauren Ishikawa, Ally Wo, Taysia Morioka, Emily Takamiya, Courtney Lee)
Awards & Accolades


Andrew Ellison '10, right, accepts a scholarship from the Mamoru and Aiko Takitani Foundation, Inc.
Shayne
Janne Rasay
'11 was one of 24 students across the nation to win the National Spanish Honor Society's Bertie Green Travel Awards. She will receive an all-expense paid trip to Mexico. One of the criteria she completed was her five minute interview and writing an essay in Spanish that linked her Philippine Heritage to Mexico's history.
Andrew Ellison
'10 was the recipient of the Karen Uno Outstanding Student Award of $5,000 from the Mamoru and Aiko Takitani Foundation, Inc.
Campus Candids
May Day Queen Lauren Onaka '10 dance a lovely solo as the 'Iolani chorus sang Aia Ke Kanaka.
See more photos »