This Issue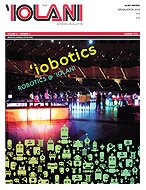 'Iobotics: The Roar of Scoreboards, the Flash of the Crowd
Read the full story »
Summer 2010 - Department
| Headmaster's Column
Commencement, Class of 2010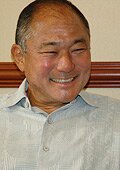 Part of the commencement speech delivered by Headmaster Dr. Val Iwashita on June 5 is published here.
From time to time one receives advice that really does shape one's life.  I know I have.
Graduation speeches such as this traditionally impart words of advice to students as they prepare to enter new worlds and new chapters in their lives. The advice I have for you today comes from my own personal experience, not from any graduation speech I have ever heard or given, but from what wise people have shared with me and what I have made of that wisdom. Only time will tell if it works as well for you as it has for me.
Time moves fast. Fifteen short years ago when I became Headmaster, I received a kind note from Father
David P. Coon
who was Headmaster here from 1970 to 1992. He shared with me a piece of advice that he had received from Bishop
Harry S. Kennedy
back when he became Headmaster.  
It read in part, "Regard the office as an obligation and a responsibility.  Work accordingly and be your own man."  It is sound advice, and those words have steadied me during good times and bad.
I have also found that "being your own man," or woman, is not always easy.  
One of the burdens of leadership, especially leading a school such as 'Iolani, is the knowledge that my decisions will always be scrutinized, often publicized and sometimes criticized.  
In trying to be my own man, I have found comfort in believing that I am doing what is best for the school and for you, the students and families we serve. That is my obligation and responsibility, and I take it seriously, even when the pressure mounts and emotions run high.
Many of you have held leadership positions during your years at 'Iolani. Whether in clubs, student government, sports or the arts, you know what it's like to have obligations and responsibilities. You have also discovered that knowing that you are doing the right thing is not always enough.  You need some outside structure and support.
I have found that in such trying moments I turn to the significant people in my life: Board of Governors members who understand the difficulty of a particular circumstance; teachers who love their work here and appreciate the many advantages we enjoy; friends who remain supportive and voice their concern and loyalty; students, past and present, who speak gratefully of their education; a family who cares enough to give love and comfort.
It was in one such difficult moment this year that my wife,
Cynthia
, gave me a passage from the late Reverend
Paul Osumi
that she had cut out of the newspaper. It reads, "Any person in a position of prominence must always keep in mind that if he is going to accomplish anything worthwhile, he must have courage and fortitude to stand against the abuse and criticisms of others."
I have done my best to honor these qualities of independence and personal responsibility as Headmaster.  I have found strength in the love and support from those with whom I work and live. These are values that have shaped my life and can shape yours.
When you do rise to new leadership roles, I hope you will take the words of Father Coon and Reverend Osumi to heart: do the right thing; be sure you are right and move forward with courage and fortitude.

You, the Class of 2010, are one of the finest classes ever to have graduated from 'Iolani School. You have done great things during your time here.  The combination of your own personal talents, the preparation you have received and your high aspirations promises a bright future for you.
In a few years you too will assume leadership positions in business, public service, law, medicine, the military and a host of other professions. I hope some of you will become teachers and heads of school.  
When you do rise to new leadership roles, I hope you will take the words of Father Coon and Reverend Osumi to heart: do the right thing; be sure you are right and move forward with courage and fortitude. Most important, cherish your relationships with colleagues, friends and family. They will give you the strength to fulfill your obligations and responsibilities honestly and independently. They will bring meaning and zest to your life.
'Iolani was established as "a school of Christian learning and truth," and we hold fast to our Christian heritage. In his
History of the  English Church and People
, the
Venerable Bede
writes, "man appears on this earth for a little while; but of what went on before this life or of what follows, we know nothing."
Maxwell Anderson
and
Kurt Weill
in their song Bird of Passage put Bede's thought into lyrics:
This is the life of men on earth
Out of darkness we come at birth
Into a lamplit room, and then–
Go forward into dark again.

You have been in the "lamplit room" of 'Iolani for anywhere from one to thirteen years. I am certain that, on reflection, that time will seem to have passed quickly as you have fulfilled your obligations and responsibilities as 'Iolani students. The autonomy and independence you have fostered within yourselves will serve you in good stead as you continue your life's journey.
Like my 15 years at 'Iolani, your time on earth passes quickly. Use what you have learned, use your imagination and use the many gifts God has given you to make a difference in this world.
God bless you and congratulations on your graduation from 'Iolani School.