This Issue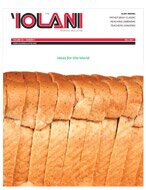 Ideas for the World
Read the full story »
Fall 2011 - Department
| Faculty Profile
Faculty Profile - Guia S. Melo
'Iolani Spanish teacher
Guia S. Melo
was named the 2011 AATSP  Secondary School Outstanding Teacher of the Year on July 8 at the annual conference of the American Association of Teachers of Spanish and Portuguese (AATSP) held in Washington, D.C. on July 8.
Guia Melo received the 2011 Outstanding Teacher of the Year Award (Secondary Level) from the American Association of Teachers of Spanish and Portuguese
"If you talk to a man in a language he understands, that goes to his head.  If you talk to him in his language, that goes to his heart."  -Nelson Mandela
          To learn different languages and to understand other cultures has fast become a necessity as we move towards a more global society. Guia Melo understood this from an early age.
          Born in the Philippines, Melo is a native Tagalog speaker who was raised bilingual. Her grandmother was born in Hawai`i and spoke English to her. The elementary schools in the Philippines also made English language part of the curriculum.  
          When Melo was 10, she left the Philippines for Hawaii, attending public schools until she entered Kamehameha in the tenth grade.  She learned early the value of understanding different cultures, of experiencing living in different countries, and how mutual respect of different languages improved her appreciation of the world around her.
          In high school, she learned Japanese in large part because her mother wanted her to know a language spoken by large numbers of  residents and visitors to the islands.
          When Melo went to the University of Hawaii she planned to continue enrolling in Japanese language classes, but the line at the registration table for Japanese courses was endless. Across the room, she spotted what looked like a sweet woman standing behind the registration table for Spanish language classes. What was even better (the woman was actually a Spanish language professor) was that registering for Spanish meant not having to stand in line.
          "I love languages," Melo says. "I love being able to learn and speak a foreign language."
          Her passion for languages has turned into a teaching career spanning 26 years. She also took French and Portuguese courses and earned her bachelor's degree in Spanish and her master's in Spanish Language and Literature from the University of Hawai`i. She studied in Spain at the Universidad de Salamanca and earned a scholarship to study at the Universidad Complutense de Madrid.
          She taught Spanish at the University of Hawai`i, Kansai Gaidai College, Chaminade University and Saint Louis high school before joining the faculty at 'Iolani in 1990.  She is also a past president of the American Association of Teachers of Spanish and Portuguese Hawaii chapter and has several professional affiliations and honors.
          This past July, she travelled to Washington, D.C. to receive an award as the 2011 Outstanding Teacher of the Year for the Secondary Level by the American Association of Teachers of Spanish and Portuguese, which oversees 70 chapters in North America.
          "Students have many different learning styles, and I have always been interested in learning more about different ways of learning so I can serve my students better," she says.
          Melo believes that learning a language means also learning about the culture. She incorporates traditional and non-traditional methods in the classroom to engage students. She implements a variety of communicative and interactive activities to inspire critical thinking in students. Her classroom buzzes as students conduct debates in Spanish, discuss current events and watch and discuss cortometrajes and video interviews.
          Melo goes above and beyond to immerse her students in cultural experiences to provide a broad perspective, bringing in guest speakers and introducing real world situations.
          In 2008, she spent part of her sabbatical in South America, and then returned with the background to lead an 'Iolani School 2010 summer trip to Peru and the Amazon for 79  students, parents and teachers.
          "It gives me a lot of satisfaction knowing that I have helped culturally diverse students communicate in Spanish and to appreciate not only their own but also other cultures and together we grow emotionally, socially and intellectually."
          Thankfully for 'Iolani, Melo's vision for understanding more about the world comes from the heart.
Comments from Readers
Ou Laoshi

Ms. Melo talk the talk and walk the walk. Kudos!