This Issue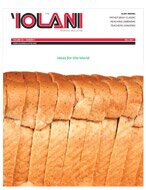 Ideas for the World
Read the full story »
Fall 2011 - Department
| Editor's Note
Lost and Found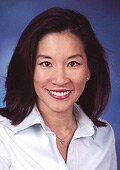 There are many places where I am considered a regular, as in I visit these places often and frequently, more than average. Sekiyas, up the street from 'Iolani, has been my usual saimin joint since high school. The crack seed store on Koko Head Drive and Kaimuki library are also on the list.
There is another place, however, where I routinely grace with my presence. Frankly, I'm not proud. With my tail between my legs, I lower my head and make my bi-weekly, sometimes weekly, pilgrimage to the 'Iolani Lower School Lost & Found.
Have you ever visited a children's Lost & Found? As the mother of twin boys in third grade, I have been inducted into what should be considered gold member status of a club that's akin to purgatory for children's personal belongings.
P.E. uniforms, towels, swimming goggles, lunch pails, thermoses and socks - you name it. If the object went to school with one of my sons, chances are that what began in their possession will eventually be left on the playground, in a classroom, at the snack bar, or on another part of campus and, ultimately, the L & F.
"Umm, where is your windbreaker, son?" inquires the impatient Mother.
"Umm, I don't know," says the Boy, fearful for his life as he sees smoke coming from his mother's nostrils.
I do find solace in knowing that I am not alone in my unrequited desire to raise children who bring their things home instead of using the Lost & Found as a satellite clothes hamper.
"You know this means we have to visit the (drum roll please) Lost & Found again!" stammers the Mother, who is speaking slowly because smoke is now also coming out of her ears.
(Right now, imagine the high-pitched sound of a train whistle, like in a Looney Tunes cartoon, sounding  loud.)
I do find solace in knowing that I am not alone in my unrequited desire to raise children who bring their things home instead of using the Lost & Found as a satellite clothes hamper.
The L & F is packed with all kinds of treasures from all types of active, busy children. On only the 17th day of this new school year, I found five lunch pails, one yellow smiley face rubber ball, two pairs of glasses, a lanyard with a set of keys, pink rubber slippers, a
palaka
fabric back pack, a nice pair of athletic shoes size 7, a kick board, a purple bathing suit, a small coin purse, and a brand new ukulele.
"Sometimes we even get underwear," says
Joy Tanaka
, who works in the Lower School office. "At the end of each month, we take everything from the Lost & Found and lay it on the walkway outside the office in hopes that children will see it as they walk by and take it home."     
Any unclaimed reusable items, such as school supplies, at the month's end are donated.     
Inventory in the L & F reflects the seasons of the year. For instance, in November and December, an abundance of jackets and sweaters is turned in, probably worn to school on chilly mornings then peeled off as the Hawaiian sun warms the day.  
Fear not, my fellow moms and dads who may be experiencing frequent L & F trips as well. Just invest in a set of permanent markers and write your child's name all over the rain coat, hoodie, sweater or whatever the item may be. Like Woody in the movie Toy Story, who is labeled with his boy's name, Andy, beneath his boot, your children's back packs, tennis racquets and judo gis DO want to come home too.     
I am very thankful for 'Iolani's Lost & Found and the amazing school staff members who manage it. Perhaps a full L & F is the outcome of a well-rounded school that offers children's lots of activities, such as dance, music, sports and art. An abundance of fun leads to a higher chance of young children leaving a trail of belongings along their daily paths - paths full of friends, play and learning.     
It's true that students and adults here are good Samaritans who might randomly stumble upon something left behind and take the time to deposit it where it may be reclaimed.
Three cheers for the Lost & Found, and has anyone seen my car keys?