This Issue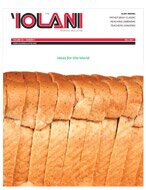 Ideas for the World
Read the full story »
Fall 2011 - Department
| Faculty & Staff File
Faculty and Staff File
Recognizing Years of Service
Headmaster Dr. Val Iwashita and Assistant Headmaster Dr. Lily Driskill on August 26 in St. Alban's Chapel recognized faculty and staff who achieved milestones in their years of service to 'Iolani. The Ernell C. Young Endowment for Faculty and Staff Development award was also presented to Chaplain Diane Martinson-Koyama to go towards professional education, development and enrichment.


Celebrating 10 years of service to 'Iolani School: front row, Lauree Sakaida, Susan Okino, Patti-Anne Nagami, Faye Korenaga, John Bickel, Headmaster Dr. Val Iwashita (who presented the awards); back row, Alex Maliwanag, Richie Kibota, Suzanne Yamada, Tracy Kimura '87, Dr. Lara Lee and Kimi Yasunaga Frith '92. (Not pictured Dr. Mark Lindsay)


Recognized for 20 years of service to 'Iolani School by Dr. Iwashita were, front row, Patricia Asato, Johanna Guth, Lisa Bailey, Kathy Shiraishi, Frank Waitherwerch, Dr. Iwashita; back row, Dean Yonamine '83, Sam Cropsey '84, Joan Kaneshiro, Shirley Longo, Vivian Todo and Dr. Peter Webb. (Not pictured Lourdes Blas)


Dr. Iwashita, far right, paid tribute to Peter Okumura '70, Christopher Strawn and Dalton Sue for 30 years of dedicated service to 'Iolani.


Physical education teacher and track coach Earl Hedani '63, center, was recognized for 40 years of service by Dr. Iwashita and Assistant Headmaster Dr. Lily Driskill.


Dr. Iwashita presented the Ernell c. Young award to Chaplain Diane Martinson Koyama for her selfless work, service and spiritual guidance for students and families.
Headmaster Announces his Retirement at End of School Year


At a faculty and staff meeting, Dr. Val T. Iwashita announces that he will retire as headmaster at the end of this 2011 - 2012 school year.
Dr. Val T. Iwashita '67 began his affiliation with 'Iolani School as a student fresh out Jarrett Intermediate in Palolo. Yet his involvement with 'Iolani continued when he and his wife
Cynthia
sent their three children (
Chad
'94,
Ann
'96 and
Jeffrey
'98) to 'Iolani. In 1995, after several accomplishments in the field of education, he became the first alumnus to serve as headmaster of 'Iolani.
Under Iwashita's leadership, 'Iolani has built upon its many successes over the years. Yet, time marches on.  Dr. Iwashita announced on August 18 his decision to step down as headmaster at the end of the 2011-2012 school year after 17 years in the position.
He will remain actively involved for the 2012-2013 school year in key projects for the school including fundraising, facilities development, 150th anniversary planning, and to help ensure a smooth transition for his replacement. 'Iolani's board of governors has appointed a search committee and engaged a global search firm to identify a new head of school.
"It has been a tremendous honor and privilege for me to lead 'Iolani for nearly two decades and to build on our 150-year tradition of excellence as we prepare our students to compete and thrive in an ever-changing world, and to ensure we remain a vital part of our community and its future," Dr. Iwashita said. "While this school year will end my official role as headmaster, my service to the school, its students, faculty and alumni, and the community at large will continue."


Teachers Bertha Tomiyasu and Daryl Kuioka congratulate Dr. Val Iwashita on the announcement of his retirement.
Dr. Iwashita is credited with advancing 'Iolani in several areas, including upgrading campus facilities, supporting and inspiring teachers and students, and emphasizing the values and traditions which distinguish an 'Iolani education. He is 'Iolani's second-longest serving headmaster and the first 'Iolani graduate to lead the school.
"Val's commitment to enabling each and every student to experience their full potential and help them become creative, productive, and caring citizens of Hawai'i and the world is one of his most enduring legacies," said
Jenai Wall
, Chair of the 'Iolani School Board of Governors.
Dr. Iwashita has served on several highly-prestigious boards and organizations. Most significantly, he was the first person from Hawai'i to be named Chairman of the National Association of Independent Schools, an organization that represents more than 1,300 independent schools across the nation. Since 1996, he has served as a director with the Hawai'i Association of Independent Schools. Iwashita was also selected as one of 13 Japanese American leaders from across the nation to join the 2011 Japanese American Leadership Delegation that travelled to Japan.
Born and raised in Hawai'i, Iwashita graduated from 'Iolani in 1967 and received a bachelor's and master's degree in education from the University of Hawai'i at Mānoa. He earned a doctorate degree in education from Brigham Young University in Provo, Utah.  
He may be retiring from his role as headmaster, but his legacy at 'Iolani will continue long into the future.
Media Release: 'Iolani's Headmaster Val Iwashita Announces Decision to Step Down at End of the 2011- 2012 School Year After 17 Years of Leadership and Educational Excellence
French Teacher Erin Cleveland Receives Fulbright Grant
French teacher
Erin Cleveland
has been awarded a Fulbright Classroom Teacher Exchange grant to teach in France for the 2011- 2012 school year. She is one of approximately 60 United States citizens who are travelling abroad through the Fulbright Classroom Teacher Exchange Program. Cleveland is teaching at the College Beg Er Vil, a middle school of about 125 students and 18 teachers, in Quiberon, France.
The Fulbright Program is the flagship international exchange program sponsored by the U.S. government and is designed to increase mutual understanding between the people of the United States and people of other countries.
Kudos & Congratulations
Congratulations to English teacher
Meghann Schroers
and
Joe Martin
who were married in a beautiful ceremony at Kualoa on June 25.
Dance teacher
Katherine Jones
'93 and husband
Peter Togawa
welcomed their son
Parker Taylor Magofna Jones-Togawa
on June 30. Parker wieghed 10 lbs and 6.2 ounces and measured 21.5 inches.
Warm wishes to teacher English teacher
Ali Stewart-Ito
and husband
Jo Ito
on the birth of their daughter
Izumi Keala Stewart
on July 15. Izumi weighed 7 pounds and eight ounces.