This Issue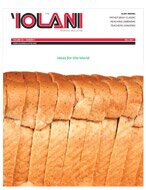 Ideas for the World
Read the full story »
Fall 2011 - Department
| School in Focus
School in Focus
Seniors Qualify As National Merit Scholarship Semi-finalists
At 'Iolani, 18 members of the Class of 2012 have qualified as National Merit Scholarship semi-finalists for 2012.
These academically talented high school seniors have an opportunity to continue in the competition for more than 8,300 National Merit Scholarships worth more than $34 million that will be offered next spring.
More than 1.5 million juniors in over 21,000 high schools entered the 2012 National Merit Program by taking the 2010 Preliminary SAT/National Merit Scholarship Qualifying Test (PSAT/NMSQT), which served as an initial screen of program entrants. The nationwide pool of semi-finalists, which represents less than one percent of U.S. high school seniors, includes the highest scoring entrants in each state and is proportional to the state's percentage of the national total of graduating seniors.
Congratulations to the Class of 2012


Members of the Class of 2012 were named National Merit Scholarship Semi-finalists.
Connor Buckland
Stratford Goto
Robyn Hamada
Anne Heslinga
Andrew Hsu
Iris Kuo
Mitchell Kwock
Micah Lau
Erin Main
Michael Miyamoto
Kenton Nakamura
Kirsten Peterson
John Sakamoto
Ayumi Tachida
John Tanaka
Jenna Watling
Steven Yee
Angelina Yick
Correction to Class of 2011 College List
The following members of the Class of 2011 have enrolled at the University of Puget Sound this past fall. Their college was incorrectly listed in the
summer 2011 issue
of the
'Iolani School Bulletin.
Perry Buto
Marc Fagaragan
Keileen Fukada
Alison Goo
Justin Higa
Shelby Isham
Cody Petro-Sakuma