This Issue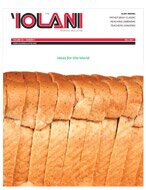 Ideas for the World
Read the full story »
Fall 2011 - Department
| Alumni Association News
News from the 'Iolani Alumni Association
I am thrilled and honored to be the new director of alumni relations. Less than a year ago, I thought that the dream of working for 'Iolani would soon come to an end. While
Kirk Uejio
'98 was on a year-long sabbatical last year, I served as acting director of student activities. You can imagine how blessed I felt when I learned that I was being given the opportunity to continue my work at 'Iolani in the capacity of alumni relations.
My first day on the job was the day after I chaperoned our newest alumni, the Class of 2011, during their project graduation. How fitting it was that the second group of alumni that I met was the Class of 1961 comprised of men 50 years their senior yet as spritely as ever. They were wrapping up their 50th reunion at a lovely luncheon at the Headmaster's residence. The gentlemen and their wives were in light spirits as they reminisced about the days when they were students at 'Iolani. Good stories don't get old!
Two months later, the 'Iolani community honored two members of this powerhouse class,
Morris Lai
'61 and
Dick Tsuda
'61, at A Touch of 'Iolani with Alumni Service Awards. This award is given to alumni whose virtuous ways serve as models for all. Now in its 16th year, the Touch has grown to be the Alumni Association's flagship event. Many people do not realize this, but the event in planned entirely by volunteers. Thank you to event co-chairs
Rae Benn
'92,
Trevor Benn
'92,
Matthew Wagner
'92 and the Class of 1992 for pouring your hearts and souls into this year's Touch.
In mid-August, we hosted a long-time tradition, the annual Father Bray Memorial Football Classic and Alumni Tailgate Party. Each year, a committee chooses several individuals who are living examples of Father Bray's One Team philosophy. This year, we were pleased to honor
Walter Chang
'40,
Wilmer Morris
'41, and
Frank Kaho'ohanohano
'51, all whom played for Father Bray.
The organization that oversees the Touch and many other alumni events is the 'Iolani Alumni Association. I'd like to introduce new board members
John Pang
'73 and
Noli (Soriano) Kazama
'94, and bid a fond farewell to outgoing board members
Cal Miyamoto
'58,
Bruce Fong
'79,
Mike Flores
'67, and
Davin Kazama
'94. We are fortunate to continue to have such a passionate and capable Alumni Association Board!
I look forward to the many challenges that come with this position. I also look forward to meeting you and to hearing your ideas about how we can more effectively engage alumni. Lastly, I'd like to challenge you to make a great effort to come out to alumni events which are currently advertised on the Alumni Association online community
www.iolanialumni.org
. Register today!
With warm regard,
Kira A. Tamashiro '05