This Issue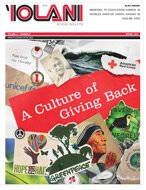 A Culture of Giving Back
Read the full story »
Spring 2010 - Other News
| Alumni
Alumni Gather in Big Apple


Bobby Webster 02, Lucy Dolly Caires '06, Kelli Grobe '05, Francis Lam '99, Tanner Fahl '99, Michael Siah '06


Michael Maii '95, Tara McCollum '92, Robynne Maii '92
East coast-based alumni and friends were invited by 'Iolani School to a cocktail reception on January 22 at Landmarc at the Time Warner Center in Manhattan.


Jenna Teruya '03, Hongzhe Sun '03, Karen Otani '03, Development Director Chris Shimabukuro '85
Enjoying a taste of Hawaii in New York City, guests were joined by more than 40 fellow graduates and members of the 'Iolani community. Alumni spanning graduating classes from '66 to '06 savored cocktails, hors d'oeuvres, and good company as they reconnected with familiar faces, caught up with peers and formed new and lasting friendships.
Special thanks to
Michael Maii
'95 and
Robynne Maii
'92 for assistance in planning the event.


Bradley Chun '99, Elyse Chun, Maria Ham '98, Justin Li '98, Craig Tamamoto '98