This Issue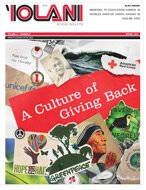 A Culture of Giving Back
Read the full story »
Spring 2010 - Other News
| Alumni
Preserving Waimea Valley - 'Iolani Community Action Network
By Kawika Nakoa '02
Their desire to give back to the community brought them together. Alumni belonging to ICAN ('Iolani Community Action Network) and their friends and families partnered with Hi'ipaka, a non-profit organization dedicated to the preservation of Waimea Valley as a cultural nature site as well as a tourist attraction. They cleaned two large areas of the valley and removed invasive plants while treading carefully over ancient structures of the Kauhale Kahiko settlement and Waimea Valley's botanical garden.


Nearly 60 alumni, friends and family members gathered on December 26 to help preserve and clean Waimea Valley on Oahu's North Shore.
Hi'ipaka caretakers briefed ICAN volunteers about the valley's history and cultural value to prepare for the day's work. Waimea was significant to Hawaiians as an area reserved for the ali'i class, or high chiefs, thus earning its name as "The Valley of the Chiefs." Unexplored caves in the valley walls still contain the ancient remains of some of the chiefs. With reverence and respect, the 58 alumni and friends proceeded into the uplands after a symbolic 'oli kahea chant requesting permission to enter into the valley.
A synergistic aura spread through the cool morning air and livened the bodies of all those in the valley that morning. More than a few volunteers observed how energized they felt after the project had finished.  As part of their efforts in Waimea Valley, ICAN volunteers also learned about the cultural significance of indigenous plants and birds in the region from the Hi'ipaka caretakers.
Hi'ipaka representatives were impressed with the work ethic and efficiency of 'Iolani alumni. Hi'ipaka plans to welcome ICAN and 'Iolani School back for future service projects. Amidst the strenuous physical work, ICAN volunteers enjoyed reconnecting with classmates and making new friends, while gaining a deeper understanding of Waimea Valley's ancient value. The cultural experiences shared between Hi'ipaka and the alumni reinforced one of the core objectives of the ICAN philosophy: To promote lifelong learning through community action.
Comments from Readers
HARLEY HOLDERBAUM '42

IMUA IOLANI.
I AM GLAD THAT IOLANI IS ACTIVE IN HAWAIIANA, PROVING TO ALL THAT IOLANI IS DEFINITELY A PART OF HAWAII AND DEFINTELY HELPING TO PRESERVE HAWAIIAN LANDS.