This Issue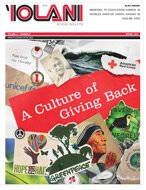 A Culture of Giving Back
Read the full story »
Spring 2010 - Other News
| Alumni
'Iolani Gumi in Japan
The 'Iolani Alumni in Japan, also known as 'Iolani Gumi (group), gathered for their annual Christmas Party/Bonenkai (end-of-the-year party) on December 12. The event was held at the Okinawan restaurant Hanauta (Flower Song) in Hiroo, Tokyo. New faces joined the party this year, increasing turnout over last year's event. Alumni talked and laughed over a 10-course meal and drinks while prizes and gifts were bestowed to participant thanks to 'Iolani School and PowerBalance Japan. Everyone went home with full bellies, the One Team Spirit, and smiles on their faces. Alumni are already looking forward to the 2010 party.


Japan-based alumni gathered for a Bonenkai or end-of-year-party.
Among the alumni who attended the Bonenkai were
Eric Heenan
'92,
Frank Song
'80,
Grant Fukuda
'92,
Aaron Feldman
'93,
Mitzi Ing
  '00,
Kala Ahloy
'95,
Greg Nakajo
'94,
Lea Okudara
'00,
Tim Inoue
'95,
Yutaka DeSilva
,
Paul Iguchi
'86,
Takeshi Yamazaki
'86,
Naoki Ebisawa
'92,
Kyle Nakamura
'04,
Clinton Matsuzawa
'97,
Adam Yamamoto
'97,
Ryan Wong
'97,
Shinichi Suzuki
'97.
Aloha from Japan!