This Issue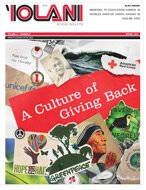 A Culture of Giving Back
Read the full story »
Spring 2010 - Cover Story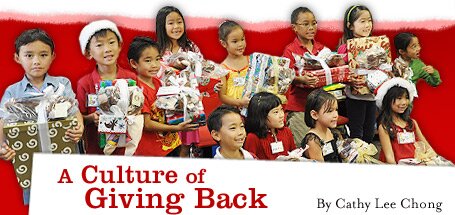 "There is more happiness in giving than in receiving."
– Acts, 20:35
Lulu Loa
of the Waianae Community Outreach Center dabbed her eyes as she stood before 'Iolani's first graders sitting on their knees or cross-legged on the carpet of the library.
"From the bottom of our hearts, thank you for doing this for the children at our center," Loa expressed. "This may be their only Christmas present and what you and your teachers give to them means so very much."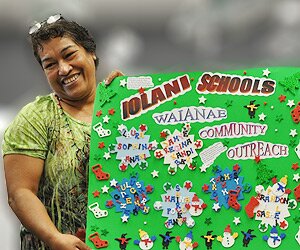 Lulu Loa represented the Wai'anae Community Outreach program by thanking 'Iolani for its donations of toys, school supplies and teddy bears.
Loa and her colleagues had just been presented with more than 70 beautifully wrapped shoe boxes filled with gifts for children at their center. Each 'Iolani first grader selected toys, school supplies, toiletries, books, CDs, snacks and more to place in their boxes. Cuddly teddy bears, donated by Good Bears of the World – Aloha Den of which first grade teacher
Mary Jo Segawa
is chair bear, were attached to the boxes which were given away during the first grade Christmas celebration in December.
While the children of the Waianae center received gifts, 'Iolani's first graders also gained something: the happiness that comes with helping others.  
The spirit of altruism is alive and well at 'Iolani whose mission emphasizes Christian principles and moral citizenship in local, national and global communities. Every day, a different class, club or team is doing something to give back whether it's mentoring students at Ala Wai Elementary School across the street or collecting clothes and goods for children a half a world away in Haiti. Community service and service learning are integral parts of the 'Iolani experience at all levels.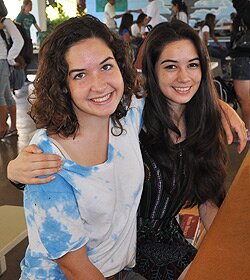 Seniors Nicole Peltzer '10 and Cameo Lethem '10 believe that giving back is the right thing to do.
"The reason I give back is because I've been given so much already," shares senior
Cameo Lethem
'10, president of the 'Iolani Leo Club. Lethem says if not for the scholarship she receives she could not attend 'Iolani.
Like Lethem, classmate
Nicole Peltzer
'10, president of the 'Iolani Sierra Club, is an avid believer in helping others. She has participated in beach and park cleanups, belongs to the Students for Peace club and teaches Sunday school at Pearl Harbor Memorial Chapel.
"The people you're doing something for, well, it gives you just as much as you give them. It impacts you when you help someone else," she adds.
This past fall, students raised nearly $3,000 for the Red Cross's efforts to aid disaster victims in the Philippines, Indonesia, and American Samoa by holding bake sales, fundraising drives and other on-campus activities.
Students
Amy DeMello
'10 and
Anne Heslinga
'12 helped spearhead the campus Angel Tree project in which donors bought Christmas gifts for more than 80 children at the Salvation Army Transitional Housing Program and the Next Step Homeless Shelter in Kakaako.
"Amy and Anne are super kids and they worked so hard on their own to make this happen," says teacher
Kimi Yasunaga-Frith
'92.
Also this past December, seventh graders participated in the Lokahi Project by donating and delivering household items to a family living in Kuhio Park Terrace. They carried a queen sized bed, a microwave oven, clothes, toys and other goods up six flights of stairs to an overjoyed family of five.
"It felt great to do such a good thing for people we didn't know," notes
Briana Camp
'15.
"Whenever I help others, I just get a really good feeling."
Each fall, 'Iolani holds a community service fair where representatives from non-profits such as the Life Foundation, Habitat for Humanity, the Juvenile Diabetes Research Foundation, and the American Cancer Society set up booths in the gym so that students can gain information on getting involved.
The intrinsic reward of helping others remains with students long after they graduate and go on into the world.
Motivated to join the efforts to help victims of the Haiti earthquake,
Rachel Powers
'05, a rowing coach at the University of Massachusetts at Lowell, has reached out to her college rowing teammates to raise money for Partners in Health in Haiti, a non-profit health care network, via the Internet.
Some recent graduates started an 'Iolani alumni service group that has already participated in several environmental cleanup days in the community and raised money for the American Red Cross.
Webster Ross
'10, president of the 'Iolani Key Club, says that when the more than 100 students belonging to the 'Iolani Key Club are out volunteering – whether they're painting over graffiti, planting trees, or assisting runners at the Honolulu Marathon, the sight of young people being involved inspires others to volunteer as well. The 'Iolani Key Club, advised by science teacher
Pamela Fujinaka
, is one of the oldest service learning groups on campus.
"If more people volunteer and help out, then we would have a better community," Ross believes.
Like the other members of the senior class, Ross will head to college this fall. He is considering majoring in mechanical engineering and eventually building homes or buildings in third world countries. Where ever he ends up, like many 'Iolani's graduates, he'll find a way to give back and contribute to the community.
"Whenever I help others, I just get a really good feeling," he says.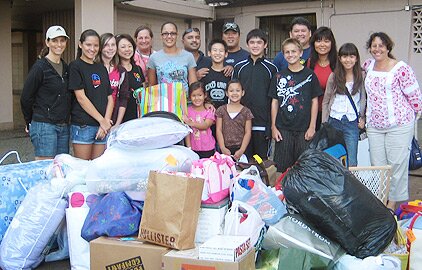 Through the Lōkahi Project, Seventh students donated household items to a family living in Kuhio Park Terrace.
New Community Service Coordinator
Allison Ishii
'02 will join 'Iolani's faculty as a full-time coordinator for community service and service learning beginning with the 2010-11 academic year. A graduate of the University of California at San Diego, she led 'Iolani's first service group to China in the summer of 2009. Ishii is also the 'Iolani girls varsity tennis coach and is an avid volunteer on campus.
'Iolani Classic and Nike Give Back
As a sponsor of the annual 'Iolani Classic basketball tournament each December, Nike donates athletic bags to youth groups in the community. This past December, three youth groups received bags.
Members of the 'Iolani girls basketball team visited Palolo gym to hand out 30 bags to from ages 8 to 14 who belong to the Palolo girls youth basketball league. The Montrose Christian basketball team, which traveled from Maryland to play in the 'Iolani Classic, offered a free clinic at Palama Settlement for approximately 100 boys and girls.  Again, the 'Iolani girls basketball team handed out approximately 120 bags to all the participants. Also, 60 small duffle bags were presented to the Kamalii Koa Special Olympics group on the windward side of the Oahu.
KA'I Program: Partnering 'Iolani and Jarrett Middle School
'Iolani will launch its KA'I Program in the summer of 2010, beginning a private school and public school partnership that hopes to foster mutual understanding between different schools and communities.
KA'I stands for
Kukulu Alaka'i 'Iolani
which is the Hawaiian meaning for "The Creation of Leaders." KA'I (to lead) will be a six-week 'Iolani summer enrichment program for seventh graders from Jarrett Middle School in Pālolo Valley and eleventh and twelfth grade mentors from 'Iolani.  
"The mission of the KA'I Program is to offer summer learning opportunities to economically disadvantaged students and to develop leadership skills in our older students through the opportunity to mentor younger peers," explains
Allison Ishii
'02, the new 'Iolani service learning coordinator.
Each summer, 12 incoming seventh graders from Jarrett will begin the program and continue it for six consecutive summers until they graduate from high school. 'Iolani students will serve as mentors each summer as well. KA'I students will enroll in two creative 'Iolani summer courses in the mornings and work with mentors in tutoring sessions and skills training in the afternoons. KA'I students do not pay any tuition fees. Philanthropists
Bill Reeves
and
Debbie Berger
, who started The Learning Coalition which is dedicated to public education in Hawai'i, have agreed to sponsor the first two years of the program.
The program hopes to expand and include students from other public schools who would also gain valuable learning experiences from 'Iolani's well-developed summer curriculum. In turn, 'Iolani students receive the opportunity to mentor younger students.
Thanks to KA'I, 'Iolani now has a venue to reach more youths in the community and to promote greater appreciation for different educational environments. Greater understanding of different cultures benefits both partner schools.