This Issue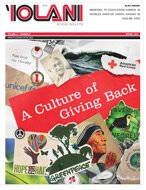 A Culture of Giving Back
Read the full story »
Spring 2010 - Department
| Pictures from the Past
A 1991 Eclipse Trip
As part of a special four-week course, Discover Hawaii taught by Tom Sheeran '66, nine students studied the solar eclipse, Hawaiian volcanoes, Hawaiian history, culture and geography. They visited the Big Island, hiked to the summit of a volcanic cone, and hoped to glimpse the total solar eclipse of 1991. They were on the crater rim of Pu'u Hina'i as the moon passed directly between the earth and sun.


Pictured are Justin Valdez '96, Maleeda Wagner '96, Ryan Roberts '96, Landy Spencer '96, Jon Kobashigawa '95, Mark Nakamoto '95, teacher Tom Sheeran '66, Koa Wagner '96, Kai Okudara '96, and Cara Uehara '96.
Comments from Readers
Landy Spencer

I still think about how amazing it was to experience the total eclipse that day.