This Issue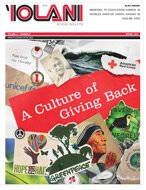 A Culture of Giving Back
Read the full story »
Spring 2010 - Department
| Faculty Profile
Faculty Profile
Peter Greenhill


Position:


English teacher


Education:


Princeton University, B.A.


Family:


Wife Beth, son Tyler '08, daughter Maile '13


Pastimes:


Reading, playing volleyball and basketball, going to the beach, playing electric bass, listening to music, writing, lifting weights, running, traveling, kayaking

By Theresa Falk '86
It has been said that one's home is a reflection of self. In the same way, then, a classroom reflects the teacher within.
To enter Peter Greenhill's classroom is more of a crossover than a coming or going. The room is covered with an organized jumble of sports memorabilia and inspirational quotes; a Princeton poster is flanked by photos of Mahatma Gandhi and soccer legend Pele. Miniature sports figurines line bookshelves, guarding philosophic texts—the space manages to be both busy and firmly Zen, all at the same time.
English teacher Greenhill is exactly that: busily Zen. His two electives, Literature of Sport and Philosophical Literature, are wildly popular departmental courses. He manages to teach all day, coach volleyball, advise the Students for Peace club and manage the 'Iolani Peace Institute, all at the same time. Through it all, Greenhill maintains a centered calm, emphasizing the joy and divinity of learning.
As a colleague, Greenhill is both a font of information and a bastion of support. His myriad of annual guest speakers, ranging from sports legends to musicians, provide both students and faculty alike new opportunities for enrichment. He constantly sends out articles to share, and will sometimes even drop by with a CD of music that he "just thought you might enjoy."


English teacher Peter Greenhill helped organize Peace Week from February 8 to 12 to foster awareness for the need for more peace in the world.
His well-deserved sabbatical will take place next spring as he earns his master's degree in educational foundations from the University of Hawai'i at Mānoa. He will also spend four weeks in Northern Spain on a peace pilgrimage to widely-known the Way of St. James.
All in all, Peter Greenhill is wonderful example of what it means to not only love, but also live your teaching. His message of ethics and peace fills his classroom - and the hearts of all he encounters - in a tangible way.
On the inside of the door, on one's way out of Weinberg Building 208, is a quote from Mahatma Gandhi. It reads: "You must be the change you want to see in the world." Peter Greenhill is doing exactly that—and we are thankful.
Theresa Falk '86 is 'Iolani English department head