This Issue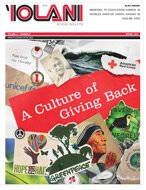 A Culture of Giving Back
Read the full story »
Spring 2010 - Department
| Alumnus Profile
Alumnus Profile


Kathleen Hashimoto '84 once faced a life threatening cancer. Thanks to what she and her family believe was a miracle, she is now cancer-free with a special purpose in life.
Kathleen Hashimoto


Class:


1984


Position:


Homemaker and homeschool teacher; former teacher at Fern Elementary School


Education:


University of Santa Clara, B.S. psychology and education; University of Hawaii, M.S. education


Family:


Husband Mark Hashimoto; daughters Elizabeth, 10, fourth grade at Trinity Christian School; and Marie, 9, third grade at Trinity

By Mari Taketa
A year ago, when
the 'Iolani School Bulletin
profiled pediatrician and triathlete
Amy Barcia Harpstrite
, '83, she was focusing a good part of her energy and concern on her sister.
Kathleen Hashimoto
, recipient of a transplanted kidney, was fighting an aggressive cancer that had sprung from the gifted organ.
Harpstrite spoke of the anguish of watching her athletic sister waste away. Hashimoto had taken up long-distance running at age 11, long before she came to 'Iolani as part of the school's third class of girls. She won the Kauai Marathon at 12 and went on finish 34 more marathons in her running career, including the invitation-only Boston Marathon, where she posted a personal best time of 3:04. The 2008 Honolulu Marathon was the first in years that she missed, so Harpstrite had just run it for her, wearing a sign that read, "In honor of Kathy Hashimoto," so that her sister's friends would know she was there in spirit.
The cancer had also sidelined Hashimoto's teaching career. It was a natural calling for a perennially upbeat, smiling woman who was always initiating projects and organizing activities, and she spent 10 years teaching kids at Fern Elementary School. Along the way she found a soul mate in
Mark Hashimoto
, a Hawaii-born and raised reconnaissance Marine who shared her values. When their tousled-haired daughters
Elizabeth
and
Marie
came along, Hashimoto left her public school teaching days behind and began homeschooling them.
Like her father and seven of her nine brothers and sisters, Hashimoto knew she had polycystic kidney disease, an inherited disorder that can eventually shut down the kidneys. In 2004, with her kidney function dangerously low, she found a donor in a stranger who answered a friend's e-mail plea for help. A tremendously grateful Hashimoto underwent the transplant operation at Cedars Sinai Medical Center in Los Angeles, and eight months later crossed the finish line of the Honolulu Marathon, more upbeat than ever.
The cancer that cropped up in the donated kidney stopped everything. It was collecting duct cancer, extremely rare and aggressive, and it had already spread through her body. Successive treatments failed and the cancer continued to grow.


The Hashimoto family posed for a photograph in 2007.
Hashimoto and her family prayed. At church, in the hospital, in their communities and even in communities where no one knew them, people prayed too.
Then, just before Thanksgiving came the incredible news that Hashimoto was well. She was regaining her strength, getting her life back. The call came from her dad, Dr.
Peter Barcia
, overjoyed and sharing the news with anyone who crossed his path. "My dad tells people he doesn't know, 'You want to hear a good story?'" Hashimoto laughs. "Every time he sees me he looks like he's going to tear up. He always says it's the best thing that's happened in his life. My mom goes, 'What? What about me?'"
When the
'Iolani School Bulletin
called Hashimoto for this profile, she had to find time in between her morning runs, chaperoning her daughters' field trips and volunteering with Meals on Wheels. On a recent day we found her at home. She stopped her elliptical workout long enough to share her story.
ISB: First off, how are you doing?
Hashimoto:
I'm doing very well. My last CT scan in January showed I'm virtually cancer-free. It's incredible. My oncologist said if you need my assistance, give me a call, but you don't have to come back any more.
Clinically I feel completely healthy now. I never wake up and feel sick like before. I'm really thankful for every day. Sometimes I'll think, here I am gardening! I thought I could never squat again. And now I'm thinking about what I can plant. Should I plant roses? It's all such a blessing.
ISB: What's a typical day for you like?
Hashimoto:
I can do everything again, like shopping and cleaning. I don't have to have help with those. We did a big family hike this last weekend that I'm still sore from.
A couple of months ago I called Meals on Wheels and said I'm back again, I can deliver! I feel like I can do that small thing.
I help out at my girls' school, when they do field trips and things like that. When they needed someone to host a get-together, I said I can make pupus and have everyone over, I can do that now. They were sort of surprised. They came over and everyone had a good time.
I've been walking and running again since last fall. I never thought I'd be able to. Amy's husband,
Kimo Harpstrite
, is my orthopedic surgeon. He said since my bones were weak from the chemo, I should wait a few months and then try walking, because I'm likely to get a stress fracture.
Now as I get stronger I can walk-jog. I go five times a week up to 7.5 miles along Lanikai loop. I get to see my sister and run by her house. Sometimes she'll be biking or running, sometimes she comes out and runs some of the way.  I'm not at her level yet.
ISB: How did you find out you had cancer?
Hashimoto:
They don't know actually when the cancer attacked. It's such a rare cancer—a fluke—but because I was immune-suppressed after the transplant, I got it.
Even before my diagnosis I was exhausted and dragging. Just the thought of making my girls breakfast, I had to lie down on the couch for five minutes. I had no idea what was wrong.
I started to need blood transfusions because I was extremely anemic. Nothing was helping. They finally did a bone biopsy and found my transplanted kidney had a virus. So they took it out.
When I woke up, my surgeon said we removed your kidney, and it has cancer. I said, thank God you got it out! He said, well… Basically it was everywhere.
My husband researched this type of cancer, collecting duct cancer. He said, oh my God, it's completely terminal, there's no cure. He went into overdrive, looking into research studies, looking for anything we could try. We started chemo, but we knew people do not survive this cancer. Nobody survives.
I got into the mode: I'm going to make everything right with people, do everything for my girls, and meanwhile I'm going to try.
ISB: What was the low point of the ordeal?
Hashimoto:
Chemo was hard, but not as bad as other people have it. The last chemo regimen made me lose my hair, but the first one gave me really bad gastrointestinal problems. To throw up so often and yet try to keep my weight on was just so hard, because the cancer made my metabolism go crazy. I was skin and bones but I had fluid in my belly, so I was like a stick figure with a big pot belly. Some days I couldn't eat at all.
Then it got to the point where I couldn't think straight. My sister had to help me fill out the girls' school application. She helped me write my name for the family Christmas letter. I said I don't want to be like this anymore. I want some quality time where I can be more normal and my girls can see me more normal.
In May '09 I said, no more. If I'm going to go, that's God's plan. If He wants to cure me, He will. I don't want to go through more chemo and still not be there for my family.
Hospice approached me in the hospital and I said it sounds like heaven, to have people around me who understand. I started receiving hospice care. Everybody came and said great things about me. That part was wonderful.
I said goodbye to everybody. Everybody but my husband. He said no, you're not going to die, I'm not going to let you. You're going to fight.
ISB: How were your girls coping?
Hashimoto: The girls would help me. They would rub my back, or help me walk, or get me things. It became our normal. They got used to me sitting at the dinner table with a pot, not able to eat because I was so nauseated. At that point I could still read to them and listen to them and help them with their homework.
They really grew up a lot. My daughter said our family is closer together, no matter what happens. It helped me want to stay alive too, having them around and so young and sweet.
ISB: Now tell us about the high point.
Hashimoto:
The family went on the Big Island trip, which we do every year, without me. I'd had the CT scan. Kimo got the results early and called and said, there's a huge decline in all of your cancer. There's no explanation.
It was a huge turning point. I had given it up to God. I had told Him, if You're going to cure me, I'm open to it, but I'm also ready to go if that's the plan. I guess this is my answer.
My husband was right in the end. It helped my family with our faith and we've gotten a lot closer. It's even brought the extended family closer, because everybody got to witness something that nobody thought could happen.
ISB: What do you think caused the turnaround? Was it prayer, or chemo, or something else?
Hashimoto:
I was on chemo for seven months. We tried three different regimens, but the CT scans would always show more growth.
There's no explanation other than divine intervention. People at my church prayed over me, priests prayed over me at home, our Catholic homeschool group came and prayed with me at the hospital, and people I didn't even know of different denominations prayed. But people prayed for me when I first got cancer, and it didn't turn around for nine months.
Now I feel that maybe it was a test of faith. I never felt angry. I felt, well, I've lived for 40 years and I've had an excellent life. I've won races, gotten a great education, been able to teach, have a wonderful husband.
Of course now I want to live a lot longer and be around for my husband and my children.
ISB: What are your goals now?
Hashimoto:
Well, I'm running the Great Aloha Run on Feb. 15 (sic), and then we're going to the Big Island for a week at spring break. We go there every year, to Keaau, where we have lots of family. I can't wait to hike the crater. And I really want to hike Mauna Loa—it's a three- or four-night hike and there's a cabin—but with all my dialysis equipment, I'm not sure about that!
I'm also gearing up and trying to get curriculum ready for September. I'm going to homeschool my girls again in the fall. I have a talent there, and my girls really soared with the home education.
I'm going to run the Honolulu Marathon in December. Someday I hope to run Boston again.
ISB: Has this experience changed anything about you or the way you live?
Hashimoto:
When I started to get healthy again and so many people were supporting and praying for me, including people I didn't know, I felt that obviously I have a purpose in life. I'm supposed to be here. I'd better live a grateful life and be open to God's will and help other people going through cancer or situations like that.
If anybody runs into cancer and wants to talk about it, we've certainly learned everything there is to know. My girlfriend's church, Hope Chapel, has asked me to come and talk about what happened, since they prayed a lot for me. I just got an e-mail from another girlfriend whose neighbor has stage 4 cancer. She said would you talk to her? I said of course. I feel like I have an obligation. I'm not an expert, but I went through the real lows, and I came back.
It's been such a blessing. There are people at church who have seen me grow up there, go there with my family, and then get sick and get weaker and weaker every Sunday. Now people want to touch me, as if I'm a religious relic. People come up and shake my hand, they're so happy. They say God is really great.
I told my husband I really have to behave now! I have to be good!
I guess I'll find out what my role is to be. I feel I know some of it. It's a blessing just to be here every day and feel good every day.
Mari Taketa is a freelance writer.
Comments from Readers
Charlie Ah Sing

inspiring and motivating... prayers and thoughts for your journey! :)