This Issue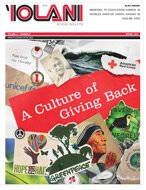 A Culture of Giving Back
Read the full story »
Spring 2010 - Department
| News from the 'Ohana
Parent Volunteers: Priceless


Jo-Lynne Natori, left, and Dr. Stacey Takanishi '84 not only volunteered to head the recent first grade Pilgrim Day Celebration, they also dressed the part.
I came across a quote that stated "Volunteers aren't paid, not because they are worthless, but because they are priceless!" This was never truer than here at 'Iolani where devoted parents volunteer hours and hours of their time to help out in the school. Parents help to organize class family, parent, and team sports get-togethers; they assist teachers and advisors with school activities; they hand out flyers at events, order T-shirts and work in fair booths - all working well beyond their regular jobs and family commitments. Talk about giving back!!
The benefits of parent involvement are many. Besides giving you an inside view of your child's school, it also demonstrates to your children that school is an important commitment of your family and, at least in my family, it also says, "If I'm putting in my valuable time then you'd better be putting in your time as well." And although you may not see the results now, institutions of higher education are seeing the effects of the habits you are passing down.


Kyle Sakumoto and Phyllis Muraoka are serving as 12th grade 'Ohana representatives.
The 2009 CIRP Freshman Survey results illustrate that of students entering four-year colleges: "record numbers (of students who) expect that they will be involved in volunteering and community services while in college. The Freshman Survey shows a link between being a volunteer and personal and social responsibility." What greater benefit is there than to know that our values are continuing with the future generation?
To the hundreds of parents out there giving back to our school and to the community beyond, know that you truly are appreciated and, in the eyes of the 'Iolani 'Ohana, "priceless."
Barbara L. Watanabe
'Iolani 'Ohana President 2010-2011