This Issue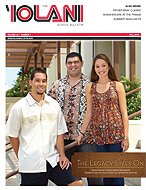 The Legacy Lives On - Eddie Hamada Scholarship Recipients Derrick Low '04, Issac Ickes '04, Leinani Keanini '08
Read the full story »
Fall 2010 - Other News
| Alumni
'Iolani Alumni Events & Activities
Golden Alumni Return to Campus
'Iolani's Golden Alumni – those who graduated more than 50 years ago – were invited to attend a special event on the 'Iolani campus on June 9. More than 70 alumni from classes as far back as 1940 and as recent as 1959 arrived for the first Golden Reunion hosted by Headmaster Dr.
Val Iwashita
'67 and the Office of Alumni Relations.  The activities began with a memorial service in St. Alban's Chapel for deceased classmates at which  school chaplain Rev.
Daniel Leatherman
presided. After the service, alumni went on a campus tour and visited the Lower School auto line area, where the original gate from the former Nuuanu campus now rests. The group then enjoyed a brunch at the Headmaster's residence. A good time was had by all as many stories were shared and friendships rekindled.


Alumni gathered for a Golden Reunion: Gerald Soneda '49, Howard Han '49, Albert Nishikawa '49, James Lee '49, Ken Mukaigawa '49, Allan McKillop '49, Jimmy Kawasaki '49, Raymond Hatate '49, Richard Papa '49 and Donald O'Day '49.


Richard Lau '58, Tommy Toma '58, Leonard Chow '58, Charolotte Chow, Diane Miyamoto, Eugene Wong '58, Calvin Miyamoto '58, Calmond Tang '58, William Ahana '58
Na Leo and Milo Shade Entertain Alumni
Live music and beautiful weather were enjoyed by more than 600 alumni attending the sixth annual Summer Concert on July 24 on campus. Over the years, the concert has featured some of Hawaii's top entertainers, including C & K, Makaha Sons, Hapa, Hookena, and Amy Hanaialii. This year's concert was no different, as the 'Iolani Alumni Association brought legendary performers Na Leo Pilimehana to the 'Iolani stage. They thrilled the crowd with their classic songs as well as covers of '60s and '70s songs. By the night's end, the crowd was dancing on the grass and having a wonderful time. Prior to Na Leo's performance, the group Milo Shade, featuring an almost all alumni lineup, opened the show with original music and their renditions of songs by C & K and other legendary bands.


Enjoying the 'Iolani Summer Concert were Jerry Tanaka '95, Kitchie Tanaka, Jordan Tanaka, Jennifer Iwashita, Chad Iwashita '94, Darin Nakagawa '95, Kira Nakagawa, Kim Meyer and Kealana Meyer.
Alumni Basketball Champs Crowned


Members of the championship team in the Alumni Summer Basketball League included Daniel Adachi '06, Gage Eberlin '03, Berton Wong '08, Jon Takamura '06, Leo Shimizu '06 and Mark Takamura '03.
The 2010 Alumni Summer Basketball League ended its season with a team captained by
Jon Takamura
'06 taking the title over the upstart team led by captain
Chad Takesue
'94. Takamura played alongside  his brother
Mark
'03,
Daniel Adachi
'06,
Gage Eberlin
'03,
Berton Wong
'08,
Leo Shimizu
'06, and
Taylor Mounts
'08. In the third place game, Team Tanaka 1995 defeated Team Kuioka 2000.
Alumni Weekend Dinner Reunites Hundreds


At the Alumni Weekend Dinner were, standing, Norman Cheng '95, Matt Emerson '95; sitting, Jamie Cheng, Jodie Emerson, Courtney Hew '97.
The fifth Annual Alumni Weekend Dinner was held at 'Iolani on August 5 as Headmaster Dr.
Val
'67 and
Cynthia Iwashita
invited reunion classes back to campus for a wonderful dinner under the stars.  More than 200 alumni enjoyed campus tours led by
Kelli Kanet
a '10,
Andrew Skalman
'10,
Chaz Silva
'09, and
Tulga Tsedev
'11.  Many alumni who had not seen the campus in years were amazed at the changes.


Michael Pila '89, Aurene (Padilla) Pila '90 and David Masunaga '75
Dr. Iwashita reminded the attendees that, though much has changed over the years on campus, the importance of alumni to the spirit and life of the school will always be appreciated and celebrated.  Guests also enjoyed the music of Milo Shade featuring
Bernie Soriano
'93,
Jon Lum
'93,
Tiki Suan
'94,
Noelani Kazama
'94, and
Chris Tokumaru
'91. 
Alumni celebrating a reunion in 2011 (any class year ending in 1 or 6) are invited to the sixth Annual Alumni Weekend Dinner.  For more information, contact Director of Alumni Relations
Mike Moses
'93 at 808-943-2309 or .