This Issue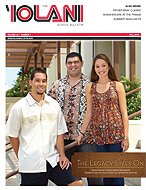 The Legacy Lives On - Eddie Hamada Scholarship Recipients Derrick Low '04, Issac Ickes '04, Leinani Keanini '08
Read the full story »
Fall 2010 - Cover
Derrick Low '04
As a basketball player, Derrick Low '04 stands out. He was a four-time All-State Player and three-time All-State Player of the Year while at 'Iolani. He went on as a four-year starter for Washington State University, then played professionally in France, Australia and Lithuania. He's now on the Maccabi Haifa professional basketball team of the Israeli Super league.
More important, Low is a good person who remains grounded and humble. He is grateful that 'Iolani opened opportunities that would not have been available otherwise. This past summer, he led a basketball clinic for boys and girls throughout the community. Helping were former and current Raider teammates. Their love of the game and desire to give back made for a slam dunk of a day.
"I really appreciate all that has been possible," Low says.