This Issue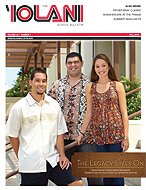 The Legacy Lives On - Eddie Hamada Scholarship Recipients Derrick Low '04, Issac Ickes '04, Leinani Keanini '08
Read the full story »
Fall 2010 - Cover
Leinani Keanini '08
Leinani Keanini '08 remembers Mr. Hamada '46 at 'Iolani's annual scholarship breakfast. She watched him happily interacting with students and wondered what being an athlete under his tutelage would have been like.
"I saw him as a man that left behind an incredible legacy of athletic leadership," she says. "You hear many people say their goal in life is to leave behind a legacy, something that made a difference and continues to touch lives. Mr. Hamada accomplished that and more."      
She credits the Edward K. Hamada Scholarship for making her education at 'Iolani possible. Keanini is now majoring in fashion merchandising at the Academy of Art University of San Francisco.
"Mr. Hamada's unselfishness and desire to help others, not only athletically but also academically and developmentally, were his most admirable traits," she adds.