This Issue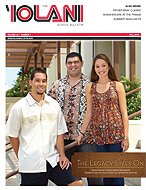 The Legacy Lives On - Eddie Hamada Scholarship Recipients Derrick Low '04, Issac Ickes '04, Leinani Keanini '08
Read the full story »
Fall 2010 - Cover
Isaac Ickes '04
The first thing one notices about Isaac Ickes '04 is that he's big. Today, he stands six-feet four-inches. At 'Iolani, he was a formidable 275-pound wrestler and football player.
Yet Ickes's big heart is most impressive. His devotion to making a positive impact on the world makes him the epitome of an Edward K. Hamada Scholarship recipient. He remembers how
Coach Hamada
always took time to stop, say hello, and ask how his classes were going. "He was definitely an inspiration," Ickes says.
Ickes, whose mother is from Tokelau near Samoa and whose father is Caucasian, went on to graduate with a bachelor's degree in social anthropology from Harvard University. He is now in his second year at the William S. Richardson School of Law.