This Issue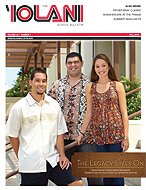 The Legacy Lives On - Eddie Hamada Scholarship Recipients Derrick Low '04, Issac Ickes '04, Leinani Keanini '08
Read the full story »
Fall 2010 - Cover
Golfing for Good
Chris Shimabukuro '85, Sanford Ujimori, Sanford Morioka '85, Andrew Yee '85, Jason Sakamoto, Brian Uemori '86, Gary Miyashiro '85
The Eddie Hamada Memorial Golf Tournament not only perpetuates the good name of Eddie Hamada, but also funds the Eddie Hamada Scholarship Fund. Thanks to hundreds of golfers, supporters, donors and volunteers, the tournament is a success that benefits students who receive the scholarship. 'Iolani is grateful for the philanthropic spirit of its community and for the many alumni who, in turn, give back to the school.


Golfers and volunteers gathered for a group photo before the start of the tournament.
Grand Prize (19th Place)

Mark Teruya
Kelvin Shigemura
Cliff Tamura

 

"Students directly benefit from this tournament and that's what Mr. H was all about."

-  David Chun '80



Wes Yamasaki '69, Stephanie Yamaguchi, Jon Yamaguchi '69





"It feels good helping young individuals reach their potential in life."

-  Colin Sato '84






"This is an event where we all have a great time with great friends to benefit students of 'Iolani! Awesome."

-  Andrew Yee '85

1st Place

Brent Shimokawa '84
Daren Akiyama '93
Derek Toyama



2nd Place

Russ Miyahira
Grant Iwamoto '09
Neal Honma



3rd Place

Larry Cundiff '55
Tom Meehan
Al Souza



4th Place

Russ Saito '61
Francis Claveria
Les Hoshide



5th Place

Blaine Umeda '01
Tyler Kimura '00
Reed Tanaka '02


6th Place

Keith Morioka '64
Chris Chun
Brian Iha



7th Place

Michael Shimoko '79
Phil Chun '83
Leonard Shimoko



8th Place

Nelson Moku '91
Carter Siu '92
Matt Wagner '92



9th Place

Keilyn Ing '15
Kaci Masuda '15
Ayumi Sakamoto '15



10th Place

Dean Yonamine '83
Darin Lee '83
Scott Nekota '83






Bryan Li '96, Justin Walthall '96, Darryl Nitta '96





Michael Yee '82, Jason Brand, Craig Haga '83, Trevor Benn '92
'Iolani thanks the following people and organizations for their support:
Platinum Sponsors
NAN, Inc.
RMY Construction, Inc.

Gold Sponsors
Commercial Plumbing
First Hawaiian Bank

Silver Sponsors
Benn Pacific Group, Inc.
Dean Foods - Meadow Gold Dairies
KSF, Inc.
Leather Soul, LLC
Monarch Insurance Services, Inc.
Okada Trucking Co., Ltd.
The Realty Company, Ltd.
Stellmacher & Sadoyama, Ltd.
Yamaguchi & Yamaguchi, Inc.

Tee Sponsors
Devens Nakano Saito Lee
     Wong & Ching 
Great Harvest Bread Company
Manoa Consulting Group, LLC
Mark Mugiishi '77
McCorriston Miller Mukai
     MacKinnon LLP
Nordic PCL Construction, Inc.
Oahu Interscholastic Association
Pepperidge Farm, Inc.
Paradise Beverages, Inc.
Sato & Associates, Inc.
Sodexo, Inc.
Brian Sunada '66

Prize Donors
Aston Hotels & Resorts
Lorene Azama
Big City Diner
Endodontic Associates
Grant Fusato '85
Hawaii High School Athletic Association
Hawaiian Host, Inc.
Hee Hing Restaurant
JMD Beverages
Rex Kim
Kyoya Hotels & Resorts
N&K CPA, Inc.
Olomana Golf Links
Pearl Country Club
Pro Am Golf Shop
Pure Joy Day Spa
 Sam Choy BLC
Les Uyehara '60
Wailea Golf Club
Nelson Yoshioka '77



Steering Committee
Lorene Azama
Trevor Benn '92
Earl Ching '80
Craig Haga '83
Kevin Ing '74
James Lee '74
Colin Miwa '74
Alton Miyashiro '72
Gary Miyashiro'85
Roy Nishioka '55
Harry Oda '77
Russell '61 & Lei Saito
Kelvin Sato '81
Chris Shimabukuro '85
Brian Sunada '66
Shaun Ushijima '81
Russell '69 & Pat Yamamoto

Volunteers
Class of 1967
     Willis Au '67
     Kevin Chong '67
     Robert Cooper '67
     Michael Flores '67
     Les Funai '67
     Miles Miyamoto '67
     Tom Ritchie '67
     Ken Sekimoto '67
     Reggie Suma '67
     Ernie Tsuhako '67
Brandon Flores '90
Leilani Fortuno
Jane Heimerdinger
Colleen Inaba
Lynne Inouye
Sanford '85 & Toby Morioka
Mike Moses '93
Phyllis Muraoka
Faye Nagata
Jo Okumoto
Andrew Yee
Lillian Yonamine




Sitting: Jo Okumoto, Willis Au '67; standing: Mike Flores '67, Reggie Suma '67, Ernie Tsuhako '67



Letter from a Former Player to his Mentor


Eddie Hamada '46 and Chris Shimabukuro '85
Dear Coach Hamada,
I imagine you to be in a much better place, maybe even playing golf with friends Masa Yonamine '47 and Bing Fai Lau '28. I hope you are hitting it straight and not leaving any of your putts short.
We held your annual golf tournament on August 13 at Pearl Country Club again this year. As usual it was a great day of fun and fellowship, but it just wasn't the same without you there. We missed your smiling face and hearty laugh, your kind words of support, your sincere interest in everyone's lives, and even you teasing us about how much weight we gained. You would have enjoyed seeing many of your former players, coaches and friends. To name just a few: Ted Wong '47, Larry Cundiff '55, Les Uyehara '60, Jon '69 and Steph Yamaguchi, Russ Saito '61, Carey Inouye '66, Brian Sunada '66, Roy Nishioka '55, Roy Murakami '55, Glenn Flores '69, and George Fujishige all played.
Can you believe this year marked the 19th year of the tournament? I thought about making an Eddie Hamada Golf Tournament banner to put up, but I remembered the last time we did that, you took it down and threw it away because, in your usual humble manner, you said it was embarrassing.
Mike Flores '67 and the Class of '67 helped run this year's tournament, and Mike told a story of how you told him that 'Iolani alumni are not dishonest on their golf handicaps, they are just too humble. The golfers got a kick out of that, Coach.
Of course, we thanked all the sponsors, prize donors, volunteers, and players who made the golf tournament possible. We thanked them for supporting the tournament and in turn your scholarship fund that enables two current students, Kainoa Scheer '11 and Ammon aldomero '11, to attend 'Iolani School. And then, Coach, we did something long over due, we thanked you. I know you would argue and say that was unnecessary, but it was important. You allowed us to name this tournament after you only because it supports our students. Thank you.
We realized that we have a lot to thank you for, Coach. The example you set through your own life and the lessons you tried to teach us in humility, dedication, compassion, generosity, fairness, and the One Team spirit gave us a high standard of excellence we all aspire to achieve. You always said you could never be Father Bray. Well, you were right, you weren't Father Bray, you were Coach Hamada, you were your own man, and we are all better people for having known you. Thank you, Coach. Many of us have become who we are today because of the seeds you planted in us years ago. You continued to plant seeds even in our adult years. I smile at the hope that down the road I will be a better person when other seeds you have planted finally awaken and come to life. I don't think I truly appreciated it until recently, but the best part of my job was the opportunity to work and spend time with you every day. I miss those days, Coach.
During the golf tournament banquet, we made a toast to you, even though you are probably cringing at the attention.
"Mr. Hamada, you coached us in athletics but taught us lessons in life. You gave so much and asked for so little. We love you. We miss you. We thank you. Cheers."
You may not have been there physically, but your presence was definitely felt, and you will always be a part of us. Thanks, Coach, thanks for everything. 'Iolani—One Team.
Sincerely,
Christian (as you have called me)
Chris Shimabukuro '85 is 'Iolani school's development director and a longtime friend and disciple of coach Hamada.