This Issue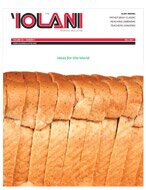 Ideas for the World
Read the full story »
Fall 2011 - Other News
| Reunion
Class of '86 Celebrates 25th Year Reunion
The Class of '86 kicked off its 25th year class reunion at the Alumni Week Dinner on campus with a nice mix of live entertainment, great food and drinks and the company of familiar faces!
Saturday night the fun continued at A Touch of 'Iolani for more food and good times! The class finished up the weekend with a nice pool party at on the 'Iolani campus during a sleepy Sunday afternoon. (With respect to all of the 86ers who aren't in shape like fitness guru
Derek Gallup
'86, there were not many pictures taken at the pool.) Mahalo everyone for a special, unforgettable reunion.