This Issue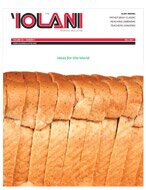 Ideas for the World
Read the full story »
Fall 2011 - Feature
| A Touch of 'Iolani
Celebrating the Arts
'Iolani's appreciation for the visual and performing arts was celebrated at the 16th annual A Touch of 'Iolani on August 6. Nearly 1,000 alumni and friends took part in the festive event.
Artists turned large canvases into master pieces, the silent auction in Seto Hall resembled a gallery, and musicians performed on stages throughout campus. Locally produced gourmet cuisine tasted as delicious as it was beautiful. Amidst the camaraderie and rekindling of ties, a program was held under the large tent where Headmaster Dr.
Val Iwashita
'67 presented 'Iolani Alumni Service Awards to
Morris K. Lai
'61 and
Dick M. Tsuda
'61. A Touch of 'Iolani raises funds to support the 'Iolani Alumni Association Scholarship fund and various alumni programs and events.