This Issue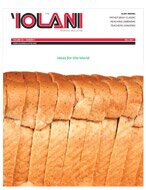 Ideas for the World
Read the full story »
Fall 2011 - Other News
| IMARA
'Iolani Mid Atlantic Regional Association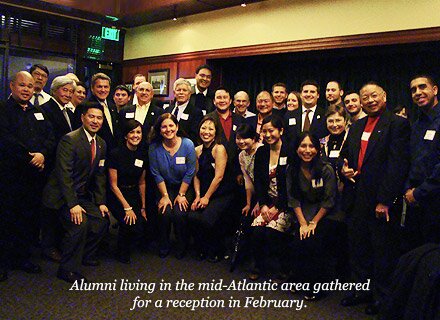 Amidst chilling temperatures and gusting winds on February 25, IMARA members were warmed by the aloha spirit as Headmaster Dr. Val Iwashita '67, former Mayor Mufi Hannemann '72, former  Board of Governors Chair James Kawashima '60, and current Board Chair Jenai Wall hosted an evening reception at McCormick & Schmick's Seafood Restaurant at the National Harbor in Maryland. With a record 40 alumni and friends in attendance, this was IMARA's 18th event since its inception in 2004.
Alumni from the classes 1959 to 2003 kept the room bustling with lively conversation and energy, and paused for remarks by Dr. Iwashita and Mrs. Wall. Dr. Iwashita spoke of construction of the new center for applied sciences, the recent purchase of land adjacent to the school, and the amazing achievements of 'Iolani's current students. Much camaraderie and laughter ensued when Dr. Iwashita picked the names of lucky recipients of 'Iolani shirts and license plate holders. Everyone wanted to win!  
The IMARA spring event will be in April 2012 with details to be announced. Please check the IMARA web site and/or contact '82, '89, or '00 for information.
ALUMNI IN ATTENDANCE:
Robert Bennett '75
Dennis Chong '90
Alyssa Ellis '00
Kimi Fassler '02
Jeffery Freeman '77
Bryan Horikami '82
Wade Ishimoto '59
Tracy Kamikawa '00
Janet Kilian '91
Daniel Manning '70
Patrick Morrissey '03
Mark Nakagawa '85

Isaac Nakamoto '70
Jeff Olson '88
Danna Ponce '93
Colin Rushing '91
John Schlieman '96
Chip Seymour '61
Jenny Taoka Hilscher '89
Ted Williams '63
Jay Wise '91
Robert Coyle '03
Gregg Yates '90