This Issue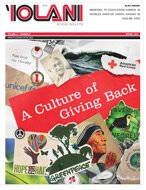 A Culture of Giving Back
Read the full story »
Spring 2010 - Cover Story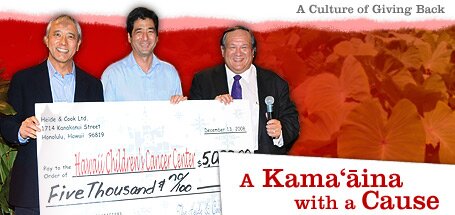 By Cathy Lee Chong
Dexter Kekua
'64 may have a background in accounting, but his true calling is philanthropy. He gets more joy out of giving money away than in reaping the profits of his $40 million company Heide & Cook.  
With a twinkle in his eye, he describes how excited children at Fern Elementary were to each receive chocolate covered macadamia nuts as a reward for memorizing the Preamble to the Constitution of the United States of America. He bubbles as he recalls the glee in students at Puuhale Elementary as they accepted gifts of backpacks overflowing with brand new school supplies. At both of those Kalihi schools, the majority of students come from low income families who rely on financial assistance to make ends meet. The candies and backpacks were donated by Kekua and his friends.
"Our mission is to be successful so that we can give back to the community."
- Dexter Kekua '64, Chief Financial Officer, Heide & Cook
Co-owner and chief financial officer of the mechanical contractor Heide & Cook, Ltd., Kekua and partner
Earle Matsuda
pride themselves on running a company that's 100 percent native Hawaiian owned (they are both ethnically part-Hawaiian) and committed to Hawai'i and the community. With 186 employees and established in 1946, Heide & Cook reaches out in unprecedented ways.
"Our mission is to be successful so that we can give back to the community," Kekua says.
Each year, Heide & Cook donates more than $100,000 in cash, sponsorships and in-kind gifts to non-profit organizations.  Whether it's Christmas trees for elementary schools, portable cooling systems for Special Olympics, or money to pay for sports uniforms and shoes for youths at Palama Settlement, Heide & Cook believes corporate giving is critical in every community and aims to be a leader in giving back.
As private citizens, Kekua and his wife
Elyn
also support programs for children with special medical needs. They donate rare and unique gifts to groups raising money. Last year, they donated a Patek Philippe Nautilus 5712 watch and a Hermes Trim Anate Violet Suede Fringe bag (made famous by Jackie Kennedy Onasis) that brought in $25,000 at a fundraiser for Child & Family Services.
As well, the Heide & Cook employee Christmas bash is more about giving than receiving. At the 2009 party, as in years prior, employees bid on prizes in a silent auction that raised more than $15,000 for organizations selected by the employees themselves: Young Life at Kawaiahao Church, the Hawaii Children's Cancer Foundation, Hawaii Canines for Independence and the Willie K. Foundation. Kekua redeemed points on his corporate credit cards for the prizes. Year round, employees are encouraged to volunteer with community service projects around town.
Heide & Cook is also an Energy Star company (one of 25 in Hawaii and one of 49 in the United States) with more than 900 photovoltaic cells on its roof in Kalihi amongst other energy initiatives; they save more than $10,000 each month by not relying on electricity. It's a way that Kekua and his partner aim to preserve natural resources for future generations.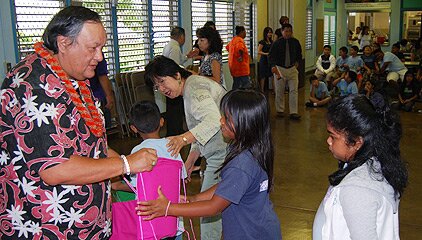 Dexter Kekua '64 donates and distributes back packs to students at Puuhale Elementary School.
For a man who gives so much, he was raised having very little.
Born in Kalihi, he began attending 'Iolani in the seventh grade. He played football under then new head coach
Eddie Hamada
'46. He graduated with an accounting degree from the University of Hawai'i after previously attending Coe College in Iowa and the University of California, Berkeley.
Right after college, he started as a manager trainee with the brand new Holiday Inn on Waikiki Beach. Within a year, he was the hotel's comptroller. His street smarts and intelligence helped him rise rapidly within the hotel's ranks. He relocated to San Francisco and eventually became the chief financial officer for the Holiday Inn western region, traveling the world to open hotels.
Kekua became involved with mergers and acquisitions when Holiday Inn bought the Westbury Hotel in San Francisco. GECC Financial, which oversaw the deal's financing, was impressed by Kekua's instincts and business acumen and hired him away from Holiday Inn in 1976. He worked for GE and GECC Financial and relocated to Hawaii in 1984, as their assistant treasurer, when GECC bought the financial division of AMFAC.
Meanwhile, in 1993, he met his wife who was a volunteer at a hospital. He was being treated for a torn Achilles tendon from a racquetball injury. She was a young widow with two boys. His desire to settle with his family in Hawai'i led him towards being a partner of Heide & Cook in January 1995.
The company is grounded in the belief that the benefit of being successful is the ability to help others. Kekua keeps the words of one his respected business associates,
Colbert Matsumoto
, to heart.
"A local company is an enterprise that views profitability as a means to bring about social good in the community it serves," Matsumoto once said. "In other words, economic success is not the end but the means to achieve a greater societal purpose."
Kekua also calls upon his lifelong pastime as a means of giving back. He builds and collects cars, owning a 1933 Willys, the world's first compact car; a BMW B7 (there are only 69 in the world); a '68 Camaro; a '67 Chevelle;  1955 Nomad, a 2007 Corvette; and a few other projects. He loaned his black convertible hot rod to a non-profit which asked people for donations to be photographed sitting in it and raised more than $1,600.
"The spirit of philanthropy is deeply embedded in the culture of Heide & Cook and we're proud of our many projects and our employees' volunteerism," Kekua says.
At Heide & Cook, giving begins at the top.