This Issue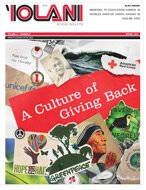 A Culture of Giving Back
Read the full story »
Spring 2010 - Cover Story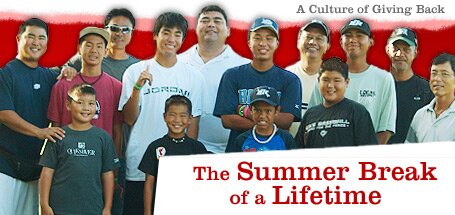 By Dr. Jeff Miyazawa '87
It was a summer break that forever changed the lives of four 'Iolani students, a set of 'Iolani parents and two 'Iolani alumni.
On July 24, 2009,
Bradley Hayashi
'15, 
Jon Ide
'13,
Tanner Nishioka
'13,
Josiah Situmeang
'13 and his parents
Aditya
and
Jill Situmeang
, Rev. Dr.
Danny Yamashiro
'86, and Dr.
Jeff Miyazawa
'87, along with seven others set out to El Catay, Dominican Republic. Their mission: to share the message of Christianity through dentistry and baseball.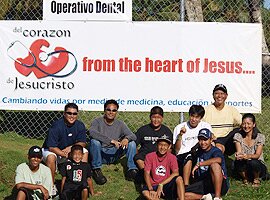 Traveling to the Dominican Republic were, top row, Dr. Jeff Miyazawa '87, Rev. Dr. Danny Yamashiro '86, Hugh Yamashiro, Jon Ide '13, Deet Situmenag, Jill Situmenag; bottom row, Josiah Situmeang '13, Jonah Miyazawa, Bradly Hayashi '15, Tanner Nishioka '13.
The vision
Back in 2006, Yamashiro and Miyazaw  made an advance trip to El Catay to visit missionaries Dr.
Steve
and
Julie Dorsey
of Del Corazon de Jesucristo. Through Yamashiro's organization, Paradise Global Mission, Miyazawa had originally planned to provide dental care to people living in the remote campo of El Catay. But when they arrived, they learned that the Baseball Tomorrow fund had donated $70,000 to build a baseball field on the Dorseys' property.
As a dentist and baseball coach, Miyazawa was inspired to apply his resources by giving back.
"God put a bigger vision in my heart," Miyazawa says.
 'Iolani baseball players' love for the game would help the underserved people in the Dominican Republic. Baseball is a popular sport in the Dominican Republic,which turns out more major league players per capita than any other country. Meanwhile, Miyazawa could provide dental care to those who needed it.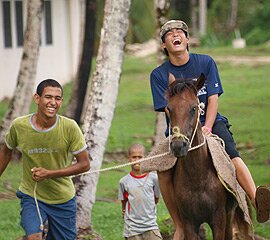 Jon Ide '13 enjoys a popular mode of local transportation.
Cross-cultures
As the baseball team pulled into the Dorseys' property of Del Corazon, they saw a magnificent baseball field in the middle of rural El Catay. It looked out of place in an area that lacked running water, full time electricity, and a sewer system.
Throughout the week, a full service dental clinic was provided by Miyazawa and fellow Hawaii dentist Dr.
Kerry Ishihara
. The dentists provided simple fillings and extractions for nearly 200 patients in five days. Although there was a language barrier, through translators, their "pidgin" Spanish, and a great deal of gesturing, dental care was administered with little difficulty.
Led by the Situmeangs and the 'Iolani boys, the team also provided a summer fun type of youth program. From dodge ball and kick ball to flag football, the youth ministry team filled the mornings with sports activities for nearly 100 kids.
"The trip made me realize how blessed we are, down to the littlest things in life," said
Bradley Hayashi
'15. "Seeing smiles on the kids' faces while watching them play baseball made me realize that they truly cherish life and everything that comes with it."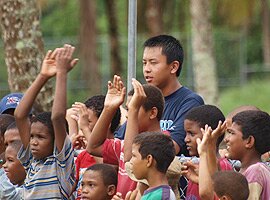 Tanner Nishioka '13  leads Dominican youths during the sports ministry segment of the day.
Afternoons were set aside for baseball. To prepare for a game against the neighboring community of Sanchez, 15 and 16-year-old boys from El Catay were led through practices by the 'Iolani boys. Although the Dominican boys belong to their own league teams, they had never experienced a baseball practice as conducted in communities in America. From basic infield and outfield practice to fielding ground balls and fly balls, and taking batting practice, the 'Iolani boys were an excellent example for the Dominicans. Likewise, the Dominicans taught the boys from Hawaii valuable lessons of trust and camaraderie.  
Life Changing Highlights
The  weeklong trip culminated with a small crusade and exchange of values and beliefs. Experiencing life in a third- world country broadened the perspectives and changed the lives of the young 'Iolani students. They made friends with youths who live a world away and who speak a different language, yet who share a love of baseball.  All shared a spiritual connection that transcended cultural and geographic differences.
Dr. Jeff Miyazawa '87 is a Honolulu dentist and an 'Iolani varsity baseball assistant coach.