This Issue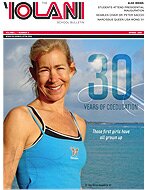 Life was different back then. George Ariyoshi presided as Governor. Kalapana recently released Many Classic Moments. Bobby McGee's was Waikiki's hot spot. And 'Iolani was a school for boys.
Read the full story »
Spring 2009 - Other News
| Alumni
Young Alums turn out for Winter Bash 2008


Tatiana Shidaki '04, Andrew Inouye '04, Trisha Watanabe '04, Development Director Chris Shimabukuro '85, Jill Akimoto '04 and Katie Franklin '04 gathered at the Young Alumni Reunion.
They may have recently graduated from 'Iolani, but they are forever connected to the school and each other. More than 300 alumni gathered at Bonsai at Restaurant Row on December 29 for an evening of fun at Winter Bash 2008, a special event for the Classes of 1998 to 2008.


Jenna Teruya '03 shows off her new iPod Touch.
The annual event is a traditional treat for 'Iolani's young alumni, a way to reconnect with classmates and friends while most are in Hawai'i during the holiday season.  Winter Bash, held courtesy of the Office of Alumni Relations, included free pupus, a live DJ and dancing, and giveaways of several terrific prizes.  Among the big winners were
Jenna Teruya
'03, who won an iPod Touch, and
Karli Quon
'07, who was the winner of the grand prize - $500 cash.


Bo Wen '07, Dillon Powers '07, David Kojima '07, Richard Wu '07 and Tianzan Zhou '07 were happy to be home for the holidays.