This Issue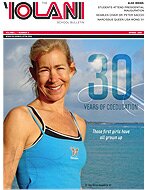 Life was different back then. George Ariyoshi presided as Governor. Kalapana recently released Many Classic Moments. Bobby McGee's was Waikiki's hot spot. And 'Iolani was a school for boys.
Read the full story »
Spring 2009 - Department
| Alumni Association News
News from the 'Iolani Alumni Association
With the nation's (and the world's) economy faltering, local businesses closing everyday, and layoffs weighing heavily on the minds of many of us, it's perhaps time to focus on the most important things in life: the relationships we have with friends and family.  It is these relationships that will bring us happiness and support during difficult times. 
The 'Iolani alma mater alludes to the importance of relationships.  The opening lines of the song's second verse are: "Here friendships weave their mystic strands forever, a fellowship that time shall not defy."  These words reinforce not only the importance of relationships, but also the strength of the bonds formed at or through 'Iolani School.  Countless friendships have their roots on the 'Iolani campus, and different 'Iolani connections have fostered the development of many, many others. 
As the 'Iolani Alumni Association Board of Directors plans it programs, it is always with these relationships in mind, whether it's bringing classmates together for reunions such as A Touch of 'Iolani or Alumni Weekend; building stronger professional and personal networks at events such as the Beer Tasting hosted at Sam Choy's in January; connecting alumni families at a box car racing event; hosting a relaxing evening with other alumni families at our free summer concert; or establishing a social network at www.IolaniAlumni.org. 
All of these events, along with many others, are designed to bring people closer together.  And we encourage you to take advantage of all that we have to offer.  Involve yourself, and you will benefit from the joy that comes from reconnecting with old friends, making new friends, and having strong relationships built upon the foundation that 'Iolani gave us all.
To get involved, please visit www.IolaniAlumni.org, our online alumni community.  Here, you'll find an alumni directory, class pages, and Classnotes.  You will also find detailed information about upcoming events like these:
    June 18: 19th Annual 'Iolani Alumni Association Golf Tournament
    June 27: Free Summer Concert with Amy Hanaiali'i Gilliom
    July 30: 4th Annual Alumni Weekend Reception for Reunion Classes
    August 1: 14th Annual A Touch of 'Iolani 
    August 15: 46th Annual Father Bray Memorial Football Classic
We hope to see you and your family at one of these upcoming events so that you can benefit from the strength and unity of the 'Iolani community.



Sherri Iha '84
President
Alumni Association


Mike Moses '93
Director of Alumni Relations