This Issue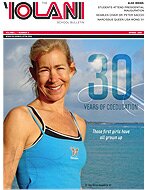 Life was different back then. George Ariyoshi presided as Governor. Kalapana recently released Many Classic Moments. Bobby McGee's was Waikiki's hot spot. And 'Iolani was a school for boys.
Read the full story »
Spring 2009 - Cover Story
30 Years of Coeducation
Those first girls have all grown up
By Cathy Lee Chong
Life was different back then. George Ariyoshi presided as Governor. Kalapana had recently released Many Classic Moments. Bobby McGee's was Waikiki's hot spot. And 'Iolani was a school for boys.

That changed on September 4, 1979, when the first 87 girls enrolled as full time 'Iolani students and sat at desks formerly occupied only by males.
This year marks the 30th anniversary of coeducation at 'Iolani.
The school broke  a 115-year-old tradition when it made the bold move to admit girls.  As early as 1970, Headmaster Rev.
David P. Coon
introduced the idea to the school's Board of Governors.  He believed that a coeducational school was a more natural learning environment than one restricted to only boys. He also believed that failing to make 'Iolani School available to both genders was a disservice.


KGMB 9 News from September 4, 1979 captures the atmosphere of the 'Iolani school when it first turned coed.
So Coon, a visionary educator, initiated an early form of market research. He ran polls of the students, faculty, parents and alumni. The results indicated that a majority of the community favored going co-ed.
Then, on May 24, 1978, under the leadership of board chair
Malcolm MacNaughton
, the Board of Governors approved the change for the upcoming school year.   
It was one small step for girls, but one giant leap for 'Iolani.
"We needed the girls, but it wasn't that our admissions were down," said Coon, now retired and living in Waimea, Hawai'i. "We had a great faculty. We had a great program, but we were only serving half the population. It's a total program now."
"It totally changed the dynamics of the class from rough and tumble boys to becoming more civilized. When girls came all the guys behaved better."

Hawai'i television and newspaper reporters covered the first day. The headline in
Imua
boldly declared, "A NEW ERA BEGINS!" Everyone gathered for a welcome assembly in the center courtyard with girls cloistered in groups and the song "Life's Different Now" by Cecilio & Kapono playing.
Coming from public and private elementary and intermediate schools throughout O'ahu, 46 girls joined the Class of '85 as seventh graders and 41 joined the Class of '83 as freshmen. The proportion of girls to boys was uneven. There were nearly 900 boys in Upper School that year.
Imua
described the first girls as "frontierswomen."     
The integration seemed to occur almost naturally. Administrators and counselors scheduled classes so that there were no lone girls in a room full of boys. New courses were developed to accommodate both genders. A women's physical education teacher,
Ann Goldenson
, was hired.
"It did go well," Coon recalled. "There were no instances of, say, boys trying to peek into the girls' lavatories. I give credit to the faculty for staying on top and having it under control."
Beneath the surface of the smooth transition, boys and girls tried not to be publicly nervous yet were expectedly curious about their new classmates.
"It totally changed the dynamics of the class from rough and tumble boys to becoming more civilized," recalled
David Hata
'83. "When girls came all the guys behaved better."
Prior to 1979, girls were able to take 'Iolani summer school courses and some from sister schools St. Andrew's Priory and Hawai'i School for Girls enrolled in advanced placement courses that weren't offered at their own schools. Girls were invited to school dances, acted in 'Iolani School plays and May Day programs, and supported Raider teams as cheer and song leaders.
Going way back, the 1940
A History of 'Iolani School
even reports that in 1876 St. Alban's College, one of the small schools that evolved into the modern 'Iolani School, enrolled 34 boys and one girl.
Perhaps educating both boys and girls together was the school's destiny all along.
"Coeducation has more than met my expectations," Coon added. "I'm so proud to read in the
'Iolani School Bulletin
about all of the accomplishments of the girls."  
Comments from Readers
Roy Kanda

Never thought that Iolani will become a coeducation school. What is going to happen to the Priory? I was proud to say I went to Iolani a all boys' school and my sister went to the Priory, a all girl school. I am a 1953 Grad!!!!!

Kari Kennard

I am glad Iolani is a coed school. I am proud of these brave women who paved the way for all of us who came after them. Iolani's list of academic and athletic achievements would be much shorter if the Wahine had never been admitted! 2001 Grad

Caroline Chun

Ann Goldenson, later known as Ann Kang. She was my PE teacher in 7th grade, back when the girls' locker room was so small we had to share lockers.

Rodney Wong '67

Wassamattayou!--I applaud the achievements and legacy of the women and girls of the Iolani Ohana. This moment prepared us for another transformational moment with President Barack Hussein Obama!

Jim Page '78

Figures...I was one year too late. That brought back some memories. I worked at Bobby McGees as a bouncer back then!

Charlie Hathaway

In 1972 I was seeking out co-ed colleges because I sensed something had been missing at Iolani. I had an interview with an older alumnus of an East Coast university that had recently admitted women. Apparently this person didn't like the co-ed idea and thought he had a like-minded interviewee because I attended an all boys high school. Well, we got into a big argument and I walked out. I was accepted but did not attend that school.