This Issue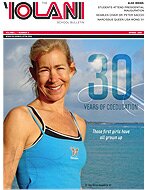 Life was different back then. George Ariyoshi presided as Governor. Kalapana recently released Many Classic Moments. Bobby McGee's was Waikiki's hot spot. And 'Iolani was a school for boys.
Read the full story »
Spring 2009 - Other News
| Alumni
Sam Choy's gathering sponsored by Alumni Association
Dave Campbell
, provided a behind-the-scenes look at the brewing process and then presented seven different beers paired with specially selected appetizers or entrees from Sam Choy's kitchen.
Darin Nakagawa '95, James Chan '98, Erin Palmer '91, Steve Palmer, Justin Haruki '00, Joel Davidson '94 and Amy Taniguchi '01 shared their 'Iolani connection.
See more photos »
After the tastings, alumni continued to socialize and enjoy a wonderful buffet dinner while revisiting their favorite beers from the tasting.  All who attended went home with full bellies, wondering when the next such event would be held.      
For information about upcoming networking events, visit www.iolanialumni.org.  Special thanks to
James Lee
'74 for his assistance at Sam Choy's and to
Neil Kuioka
'00 who helped plan the event on behalf of the Association.
A capacity crowd of more than 50 alumni representing different decades descended upon Sam Choy's Breakfast, Lunch & Crab on January 15 on Nimitz Highway for a night of beer tasting and networking sponsored by the 'Iolani Alumni Association. Big Aloha Brewery's brewmaster,