This Issue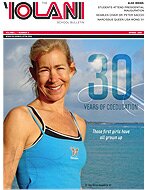 Life was different back then. George Ariyoshi presided as Governor. Kalapana recently released Many Classic Moments. Bobby McGee's was Waikiki's hot spot. And 'Iolani was a school for boys.
Read the full story »
Spring 2009 - Other News
| Alumni
Class of '88 celebrated 20th Reunion
By Robin Hirano '88
The Class of 1988 celebrated its 20th Year Reunion over two different weekends this past fall. A pau hana, A Touch of 'Iolani, and a golf tournament at the Hawaii Prince Golf Course took place in early August.
The group enjoyed sushi, front row, Greg Sekiya, Kel Ide's daughter, Kurt Ginoza, Noreen Takeshita, Scott Fujiwara, Robin Hirano, Remy Hiramoto, Denise Miyahira; second row,  Branden Sumida, Corey Kawai, Cecily Tsuchiya, Kei and Lisa Sato, Sharene Ichiyama, Daryl Nishimiya, Derek Ichiyama, James Wong, Kathleen Chu, Eric Moon, Jeff Furuta; third row, Chris Lee, Kel Ide, Rick Takeshita, Rick Shintaku.
See more photos »
A good crowd of 'mates and significant others descended upon Kochi on King Street for grinds, adult beveragess, and some "who you?"  The shocker of the evening, hands down, goes to the appearance of Big
Eddie Kealoha
, who was in good spirits despite not winning the lead for the remake of The Incredible Hulk.  Thanks
Kathleen Chu
for organizing the event!  We had 43 classmates in attendance,
Kimberly Ahn
,
Lawrence Ching
(who we have heard got recently engaged - congrats!),
Mike Ching
,
Kathleen Chu
,
Scott Fujiwara
,
Kurt Ginoza
, myself -
Robin Hirano
,
Dawn (Izawa) Hirano
,
Susan (Verr) Ibara
,
Derek Ichiyama
,
Corey Kawai
,
Eddie Kealoha
,
Garrett Krueger
,
Kristie Lai
,
Samantha (Daniels) Landry Smith
,
Jason Lau
,
Chris Lee
,
Sandy Low
,
Pamela Lundquist
,
Denise (Dang) Manuel
,
Courtney Matsu
,
Kit Millan
,
Denise Miyahira
,
Kent Morihara
,
JoAnn (Leong) Neidow
,
Kevin Nishikawa
,
Andrea Saranchock
,
Evan Scherman
,
Greg Sekiya
,
Kyle Seto
,
Scott and Lisa (Lee) Simon
,
David Skierkowski
,
Branden Sumida
,
Branden St. James
,
Mark Sumikawa
,
Rick Takeshita
,
Cecily Tsuchiya
,
James Wong
,
Matthew Wong
,
Kyle Yamaguchi
,
Todd Yonamine
and
Bryant Zane
.  Classmates flew in from all over the country and the world for the full-filled event.
On Sunday, August 3rd, 20 classmates headed for the Hawaii Prince Golf Course. 
David Yoshida
and
David Miyamoto
joined their fellow classmates for the golfing festivities.  Mahalo to
Kevin Nishikawa
for coordinating the tournament.
Chris Lee, Sean Tajima, Kurt Ginoza and Jeff Furuta were bowling at Jillian's.
See more photos »
On the last weekend in September, members of the Class of '88 cashed out our piddling stock portfolios and invested at Las Vegas.  Good call, as it turned out.  The key to Vegas is not to blow everything at once, so we started with bowling at Jillian's on Friday night.  It almost turned into fight night when Kei Sato started debating the need for an armed militia with four marines.  Kei had better odds winning the part of mild-mannered Dr.
Bruce Banner
, and perhaps he thought this was the audition.  Bleary-eyed from the fog of Friday night, a few "study hallers" did not make it to a Saturday morning slot tournament at the Cal.  (Sorry, Cec!)  The last organized event was an all-you-can-eat dinner at the Sushi Factory (planned by Rick Takeshita), which featured something called "Buffalo Volcano" that must have been 500 calories per piece.  Kei's wife,
Lisa
, wisely accompanied him that evening, and Kel brought along his wife and daughter.  Thanks to
Cec Tsuchiya
and
Kurt Ginoza
for setting up the Vegas weekend of fun!
Comments from Readers
No comments yet.
Be the first to share your thoughts!