This Issue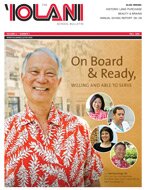 On Board & Ready, Willing and Able to Serve
Read the full story »
Fall 2009 - Cover Story
Dr. Cathy Bell '87
On the future of 'Iolani:
"'Iolani has come a long way and we need to ensure that we are teaching kids how to be creative, how to work together to solve problems and how to give back and serve the community. We need to develop creative people in all areas to deal with the global challenges we're now facing."
Dr. Cathy Bell '87


Occupation:
Assistant Professor, Department of Psychiatry, University of Hawai'i at Mānoa
Education:
Yale University B.S., John A. Burns School of Medicine, M.D.
Awards:
Native Hawaiian Health Scholarship Program
Community Service:
Past board member of Keiki O Ka 'Aina Learning Centers
Interests:
Time with family and member of Lanakila Church
Family:
Husband James "Kimo" Bell; son KC, 6-years-old; daughters Tori, 4-years-old; Colbie, 10-months-old.
There have been many "firsts" in the life and family of Dr. Cathy Bell '87.
Her great-grandfather, Dr. Alsoberry Kaumualii Hanchett, was the first person of Hawaiian ancestry to graduate from Harvard Medical College back in 1914 and is believed to have been the first Hawaiian medical doctor.
Her grandfather, The Right Rev. E. Lani Hanchett '37 (son of Alsoberry), was also the first Hawaiian to be ordained to the priesthood and  was elected in 1967 as the seventh diocesan bishop for the Episcopal Church in Hawaii. He was the first bishop of Hawaiian ancestry and the first 'Iolani alumnus to become bishop. He then served as the chair of 'Iolani's Board of Governors from 1969 to 1975.
Now Bell, who graduated from 'Iolani in its first decade of co-education, is the first 'Iolani alumna to serve as a full member of the 'Iolani Board of Governors.
"As a new board member, I want to come in and see where things are at and how I can contribute," she says. "Being trained in pediatrics and child psychiatry, I'm very interested in the emotional well-being of kids."
Bell's interest in working with children led her to pursue pediatrics. Her studies at Yale then moved her towards psychology and research. In medical school, she became interested in psychiatry. However, she couldn't let go of pediatrics, so she pursued a combined training program in pediatrics and psychiatry.
Today, her work days are spent training medical residents, seeing patients and running a child psychiatry inpatient program.
In her position as an assistant professor with the Department of Psychiatry for the University of Hawai'i, she trains medical residents in the Child & Adolescent Psychiatry Residency Training Program and the Triple Board (pediatrics, general psychiatry and child psychiatry) Program. She is also the medical director and child psychiatrist for the Family Treatment Center, an inpatient unit at Queen's Medical Center where she treats children ages five to 18. Queen's is also expanding their child and adolescent psychiatry outpatient program.
Earlier, Bell served for four years as a child psychiatrist at the Waimanalo Health Center and the state Department of Health Child & Adolescent Mental Health Division, fulfilling the service obligation that came with the Native Hawaiian Health Scholarship she received for medical school.
Along with her responsibilities as a physician, Bell and her husband, professional musician James "Kimo" Bell, have three young children. Whether it's as a mother of three or as a medical director, working as a team member is one of her secrets to success that she credits to her athletic experiences at 'Iolani.
"I enjoy trying to understand different perspectives to help individuals find new ways to solve problems.  I'm optimistic that this is something that will enable me to contribute to 'Iolani in some small way," she says.
Comments from Readers
Phil Yogi

Way to Go Bell!!!!

Cecilia Fordham

Delighted to see the Board moving forward. Cathy Bell is an excellent choice. She was a discerning student; I have no doubt she has become an adult who meets challenges with integrity and humor. Broad perspectives and diverse groups can only enable progress. I trust Cathy brings both to the table.
Congratulations to the other new members, as well.