This Issue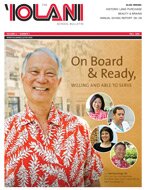 On Board & Ready, Willing and Able to Serve
Read the full story »
Fall 2009 - Cover Story
Lisa Sakamoto
On being an 'Iolani parent:
"All of the years are good, but the kindergarten and senior years are the best years. There's that wonderment of childhood in kindergarten when everything is new. Then in senior year, it's 'Wow, we really did this.'"
Lisa Sakamoto


Occupation:
Diocesan Finance Officer for the Roman Catholic Church, Hawaii

Education:
University of Hawai'i at Mānoa, B.B.A. degree, New York University, M.B.A.
Community Service:
Member of the board of Friends of the John A. Burns School of Medicine; vice chair of the board of HMSA;'Iolani School 'Ohana treasurer, grade level representative, parents symposium committee member
Interests:
Family time, traveling, cooking
Family:
Husband Keith Sakamoto, sons Jeffrey Sakamoto '09 and John Sakamoto '12
Lisa Sakamoto
's first visit to 'Iolani School was a stark contrast to her visits now as a member of the school's Board of Governors.
As a senior at Maryknoll high school, she belonged to the Liberty House Hi-Board for teenagers and had come to 'Iolani's campus to participate in a fashion show. (Also, on the Hi-Board that year were
Linda Miyata
, an 'Iolani Lower School teacher, and
Jenai Wall
, chair of the 'Iolani Board of Governors.) Back in 1977, it was Sakamoto's first visit to what was then a boys only school.
As she and the other Hi-Board teens promenaded out of the gym, she and another girl suddenly became the targets of raw eggs hurled from the second floor by mischievous boys.
"I swore I would never ever date an 'Iolani boy," Sakamoto says, now laughing over the folly.
She did go on to marry
Keith,
who graduated from Roosevelt High School, and they ended up sending their sons to 'Iolani, albeit after the school became co-ed.
"Isn't that funny how life circles back," she adds.
For Lisa, life is all about coming full circle and finding one's calling. Educated in the parochial school system, she says her faith came out of her father's devout Catholic beliefs. As a certified public accountant, she has built a career that allows her to serve the church.
After her corporate life in various positions, she served the Church as the Vice President of Finance for Catholic Charities of Hawaii before her current position at the Roman Catholic Church.
"I think our faith creates who we are and from that comes our passions in what we do," Lisa says.
She also makes volunteering a priority, serving on several boards of non-profit organizations. For the 'Iolani 'Ohana organization, she helped with the establishment of the parent symposium which brings in faculty and other speakers to discuss interesting topics, such as English teacher Dr.
Peter Webb
delving into Shakespeare and igniting interest in the bard's poetry.
Her perspective as a parent heightens her awareness of the school's strengths and challenges. As a member of the 'Iolani Board of Governors, Sakamoto hopes to carry on the vision initiated by her predecessors.
"I give the current Board of Governors kudos for their vision and for building Seto Hall, which really helped enhance the campus," she said. "There's still so much to do."