This Issue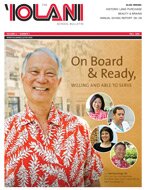 On Board & Ready, Willing and Able to Serve
Read the full story »
Fall 2009 - Cover Story
Mark Yamakawa '74
On being an alumnus:
"For those of us lucky enough to receive an 'Iolani education, it's our responsibility to come back, engage the community, participate and give back. It's a matter of what we can do to build and improve our community."
Mark Yamakawa '74


Occupation:
Executive Vice President/Chief Operating Officer for The Queen's Health Systems (parent company of The Queen's Medical Center)

Education:
University of California, Berkeley, B.S.; University of Hawai'i at Mānoa, M.B.A.
Community Service:
Currently on the boards of University Health Alliance, Child & Family Services, Lanakila Pacific Foundation, Waikiki Improvement Association; previously served on the boards of Kalihi Palama Health Center, Hospice Hawaii, Honolulu Dance Theatre
Interests:
'Iolani sports and performing arts, swimming, art classes
Family:
Wife Ruth, daughters Rachel Yamakawa '02 and Robyn Yamakawa '05

Upon receiving the 2009 'Iolani Alumni Service Award,
Mark Yamakawa
'74 humbly stepped up to the podium before more than 1,000 people. Holding the crystal award above his head, he deflected the honor by saying it should really go to the Class of '74, not to him alone.
Yamakawa epitomizes the 'Iolani humility that makes the One Team motto more than words.
As one of the most powerful leaders in one of Hawai'i's biggest organizations, Yamakawa's leadership is far-reaching.
In addition to his position with The Queen's Health Systems, he also has major roles with its subsidiaries: president of Queen Emma Land Company, chair of the board for Queen's Development Corporation and executive vice president for The Queen's Medical Center. His areas of responsibility include stewardship of Queen's 12,500 acres of land (10,000 acres on the island of Hawai'i, 2,000 acres in Halawa on Oahu, and 18.5 acres in Waikiki (International Market Place).
He also oversees strategic planning and marketing, new business development, human resources, legal areas, facilities planning, design and construction. The for-profit subsidiary, Queen's Development Corporation, which includes physician office buildings, retail pharmacies, Diagnostic Laboratory Services and other joint ventures, fall under his jurisdiction as well.
All of this came from someone who, as a boy, was uncertain about his own future.
"I didn't enter 'Iolani until the ninth grade," Yamakawa says. "The new school environment was a life-changing event. My own parents didn't go to college, but they wanted me to have educational opportunities they didn't have. 'Iolani prepared me for college and beyond."
Today, he is grateful for the dedication of 'Iolani's teachers and the school's commitment to academics, character education, and high standards of excellence.
He also remains very close to his classmates and cherishes their fellowship. Now he has come full circle; his roles at the school have evolved from student to alumnus to parent and now to member of the Board of Governors.
"Whenever I can, I try give back to the school," he adds. "There are also so many people who give back in different ways, like the coaches, teachers, mentors and role models who influence students to pursue their passions."