This Issue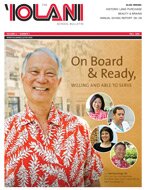 On Board & Ready, Willing and Able to Serve
Read the full story »
Fall 2009 - Cover Story
Dr. Calvin Oishi '79
On what distinguishes 'Iolani School:
"At 'Iolani, it's academics first. It's not about being loud and proud, but silent and effective."
Dr. Calvin Oishi '79


Occupation:
Orthopedic Surgeon, Director of Rehabilitation at Kapiolani Medical Center at Pali Momi, Orthopedic Consultant for the University of Hawai'i at Mānoa Department of Athletics

Education:
Pomona College, B.A., University of California at San Diego School of Medicine, M.D.
Awards:
NCAA Postgraduate Scholarship for academic and athletic excellence, elected into the A. Baird Hastings Honor Society for academic excellence at the University of California at San Diego
Community Service:
'Iolani varsity football physician since 1999, sponsor of Jesus Christ is Calling You ministries, volunteer with    football programs at St. Louis School and Pac-Five
Interests:
Traveling and football

Family:
Daughter Sarah Oishi '13 and son Nathaniel Oishi '15
Dr. Calvin Oishi's loyalty to 'Iolani School goes way back, even before he was old enough to walk.
"My family has been represented at 'Iolani School for three generations," he says
The Oishi 'ohana includes Dr. Robert Oishi '51 (his uncle), Gordon Watada '52 (cousin), David Oishi '56 (cousin), Dr. Stephen Oishi '74 (brother), Dr. Martin Oishi '76 (brother), Matthew Oishi '05 (nephew), Kellye Oishi '10 (niece), and his own children Sarah Oishi '13 and Nathaniel Oishi '15.
Today Dr. Oishi is one of the best known orthopedic surgeons in the state, treating professional athletes with aggressive physical demands to average folks who need routine assistance. The walls of his office showcase portraits of sports figures, athletic jerseys, 'Iolani teams, and other sports memorabilia.
Dr. Oishi graduated cum laude from 'Iolani and played football. The camaraderie shared with his teammates sprouted iro lifelong friendships. He went on to graduate magna cum laude from Pomona College, was awarded a NCAA Postgraduate Scholarship in football for academic and athletic excellence, and was elected into Phi Beta Kappa.
His interest in sports and medicine led him towards orthopedic surgery training at the University of California, San Francisco, followed by his completion of a joint reconstruction fellowship at the Scripps Clinic and Research Foundation in La Jolla, California. He was actively involved in research and has 17 citations in the National Library of Medicine.
Currently, Dr. Oishi is working with Exactech, Inc. on the development of hip and knee replacements.  
While his own football playing days have passed, he is still in the game as a physician treating athletes, a father coaching his son, and a fan cheering on the Raiders from the sideline of the Eddie Hamada field.