This Issue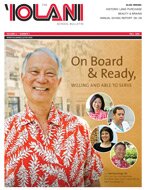 On Board & Ready, Willing and Able to Serve
Read the full story »
Fall 2009 - Cover Story
Mel Kaneshige '66
On serving as a member of the Board of Governors:
"We produce students who are able to compete nationally and internationally academically, artistically and athletically and we've got a lot to be proud of. Our mission in the future is to continue to maintain that leadership position. We always need to think about what we can do better."
Mel Kaneshige '66

Occupation:
Executive Vice-President of Real Estate and Development, Outrigger Enterprises Group

Education:
Harvard University, A.B., University of Pennsylvania, J.D degree and M.A.  (City Planning)
Community Service:
Current member of the board of Girl Scouts of Hawaii; Current trustee of the Foundation of Rotary Club of Honolulu, past president and current member of the board of Rotary Club of Honolulu, past president/member of the board of Palama Settlement, past president/member of the board of Aloha United Way, past president/member of the board of Historic Hawaii Foundation
Interests:
Baseball, collecting photos of old Hawai'i 
Family:
Wife Dr. Nancy E. Pace, son Pace Kaneshige '05 and daughter Tate Kaneshige '08
As an avid collector of vintage Hawaiian photographs,
Mel Kaneshige
'66 is deeply interested in the culture and beauty of old Hawai'i. Yet his commitment to new Hawai'i is clearly visible through his developments in the local real estate market.
Armed with Ivy League diplomas and an accomplished career as a lawyer, Kaneshige currently oversees the global acquisition, development, management and disposition of the real estate assets for the Outrigger Group of Companies as well as the acquisition of new hotel and condominium management contracts. He has spearheaded the redevelopment and repositioning of signature Outrigger properties throughout Hawai'i, including the $1.75 billion Waikiki Beach Walk project. His responsibilities include Outrigger's expansion into Asia and new resort openings in Bali, Indonesia; Phuket, Thailand; Hainan Island, China, and Vietnam.
While success takes him around the world, Kaneshige's heart is firmly planted in his hometown. His fondest boyhood memories come from being an 'Iolani student in the early 1960s.
"Back then, 'Iolani was a different place," he says.
The school had a radio station, KORL, that required a large antenna situated on campus. A fence surrounded the antenna, but with Kaneshige and his classmates playing baseball nearby, errant balls often flew into the fenced area, and some unlucky boy had to climb in to fetch the ball.
He also recalls driving to school and he and his pals all parking their cars next to each other. Sitting on sticky vinyl car seats in the hot sun, they traded homemade sandwiches and ate together before class.
In his senior year, Kaneshige was elected class president, a position that he can't seem to shake, especially when reunions draw near and the class looks for leadership in planning events. Kaneshige also played baseball for 'Iolani and Harvard.
Now he enjoys supporting 'Iolani's programs in a myriad of ways. His family established the Tokuo Kaneshige Athletic Award in honor of his father and to recognize students who exemplify leadership, scholarship and athletic ability.
Kaneshige brings many talents to his new role on 'Iolani's board, along with his lifelong commitment.
"I owe a lot to 'Iolani," he says. "I'm happy to serve."