This Issue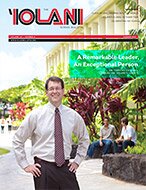 A Remarkable Leader, An Exceptional Person: Dr. Timothy Cottrell Carries on 'Iolani's Legacy
Read the full story »
Summer 2012 - Other News
| Reunion
Class of '67 celebrates 45 Years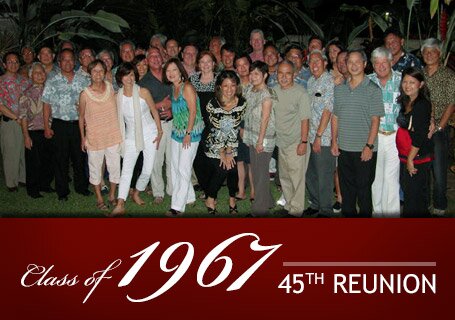 The Class of '67 reunited, joined by their partners. From left to right, Kevin Chong, Gregory Kam, Jonathan Cho, Dwight Inouye, Ray Uyema, Ed Motosue, Alan Hirota, Wes Ching, Wayne Thom, Cynthia Iwashita, Brooks Takenaka, Colleen Chong, Steve Nagata, Susan Nagata, Kerry James, Miles Miyamoto Ike Sakamoto, Carol Miyamoto, Mike Flores, Bob Bulkley, Sherri Bulkley, Gary Fong, Jan Lai, Cliff Hedani, Carlton Chang, Lorraine Chang, Reed Minuth, Val Iwashita, Lawrence Uchima, Reggie Suma, Winston Wong, Leighton Chong, Sheila Chong, Glenn Miyashita, Jim Wong, Robert Cooper, Dave Hulihee, Fay Uyema, Les Funai
I
t was a very pleasant, comfortable night. Good food—more than we could finish, lots to drink—anything and everything that suited your taste, and great company—as Coop said, you all looked great!
Our 45th reunion coincided with the end of Dr.
Val Iwashita
's tenure as the Headmaster of 'Iolani School after 17 years. When it comes to planning reunions, our class tends to favor the simple get togethers, which, for the past several reunions, usually means an evening at the Headmaster's home right on campus with a lot of food and a lot of drink. With Val leaving at the end of the school year, the Headmaster's home will be renovated to make it ready for the new Headmaster. Thank you, Val and Cynthia for hosting us for one more reunion.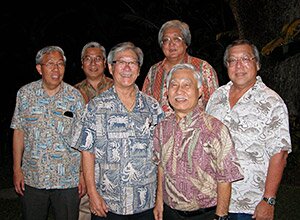 Members of the of the Class of '67 who are Sons of 'Iolani: left to right, Winston Wong, Dwight Inouye, Brooks Takenaka, Ike Sakamoto, Ray Uyema, and Wayne Thom
We numbered 29 strong for this reunion. Our beloved Class President
Miles Miyamoto
welcomed
Kevin Chong
,
Ed Motosue
,
Gregory Kam
,
Wes Ching
,
Dwight Inouye
,
Ike Sakamoto
,
Bob Bulkley
,
Gary Fong
,
Michael Flores
,
Reed Minuth
(all the way from the bay area),
Val Iwashita
,
Reggie Suma
,
Leighton Chong
,
Glenn Miyashita
,
David Hulihee
,
Les Funai
,
Jonathan Cho
,
Ray Uyema
,
Wayne Thom
,
Alan Hirota
,
Brooks Takenaka
,
Cliff Hedani
,
Carlton Chang
,
Lawrence Uchima
,
Winston Wong
,
Jim Wong
,
Steve Nagata
, and
Robert Cooper
.
Being that we were an all-boys class, our reunions do take on a more cultured flair when our wives and lady friends are able to join us. Our apologies in advance for misspelling of names. Thanks to
Carol Miyamoto
,
Fay Uyema
,
Lorraine Chang
,
Jan Lai
,
Colleen Chong
,
Sheila Chong
,
Sherri Bulkley
,
Susan Nagata
,
Kerry James
, and of course
Cynthia Iwashita
for adding a lot more sophistication to what would have been a beer and pupu pā'ina.
We remembered our classmates that left us this past year:
Wyman Lai
,
Tom Nitta
, and
Glenn Nadamoto
. They were with us in our hearts and memories to celebrate our 45th.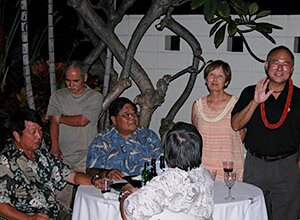 Val Headmaster Val Iwashita speaking to fellow classmates and friends: left to right, Cliff Hedani, Lawrence Uchima, Reggie Suma, Wayne Thom, Cynthia Iwashita.
We recognized our classmates, present at the reunion, who held the distinction of being Sons of 'Iolani. For those that started as a kindie, that makes 57 years of association with Iolani School. Hats off to Winston, Dwight, Brooks, Ike, Ray, and Wayne.
We ate, drank and talked. Understanding that we are all getting a little bit older, it is difficult to remember what we talked about. But the topics had to be our ailments, what medication we take for the ailments, retirement and life after retirement, golf, and grandkids. You have to come to the next reunion if you want more detail than that.
Thanks to Cliff, Coop and Kevin for "volunteering" to coordinate the dinner. Kevin did an outstanding job of handling the headcount and finances. And as always, thanks to President Miles for leading the effort to organize and hold our 45th reunion.
For those of you who were unable to attend the reunion, we missed you and please "save" 2017 for a wonderful 50th!