This Issue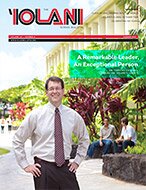 A Remarkable Leader, An Exceptional Person: Dr. Timothy Cottrell Carries on 'Iolani's Legacy
Read the full story »
Summer 2012 - Other News
| Alumni Association Golf
Tee Time for the Alumni Association Scholarship Fund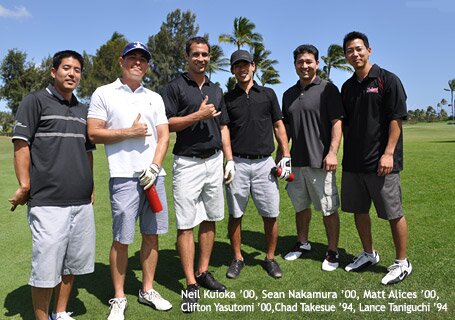 O
n Friday May 11, more than 220 golfers gathered to play in the 22nd Annual 'Iolani Alumni Association Golf Tournament at the Hawai'i Prince Golf Course. The players enjoyed beautiful weather, great prizes and delicious food and drinks.
At the end of the fun-filled day, the team of
Paul Matsumoto
'91,
Bryan Lee
'93, and
Marc Okumura
'91 took home the first place prize and the team of
Derek Kamm
'99,
Vladimir Gaad
'99, and
Be Vuong
took home the grand prize placing 22nd.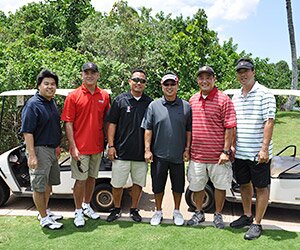 Garett Muranaka '89, Mike Yee '82, Rand Ide '90, Cory Okumura, Ryan Ide '85 and Brent Shimokawa '84
Many of the players and teams went home with great prizes and all of the players took home 'Iolani Alumni Association logo Hydro Flasks. Players also enjoyed Big City Diner chili & rice bowls, gelato, and plenty of drinks throughout the course. 
A big mahalo to the Class of 1981 planning committee led by
Kelvin Sato
, along with the other members
Gary Camp
,
Galen Haneda
,
Scott Hirashiki
,
Randy Inaba
,
Mark Kanemori
,
Matt Loo
,
Kent Matsuzaki
,
Bert Morikuni
,
Lincoln Oshiro
, 
Shaun Ushijima
,
David Whitmore
,
Lee Yamamoto
, and
Clinton Lee
. All their months of hard work created a flawless tournament. Mahalo also to
Lisa Haneda
(wife of Galen) and
Lisa Yamamoto
(wife of Lee) who made sure the day of the tournament ran seamlessly, as well as to
Judy Kurokawa
and
Phyllis Muraoka
who ran an efficient check-in table. Lastly, we would like to thank everyone else from the Class of 1981 who helped make this tournament a success.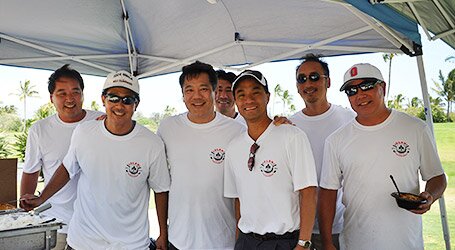 Members of the Class of 1981 made the Alumni Association Golf Tournament a fun-filled and successful event: Kent Matsuzaki, Scott Hirashiki, Galen Haneda '81, Mark Kanemori, Clinton Yee, Matthew Loo, Randy Inaba '81
The school is very grateful to all the sponsors and alumni who made donations to make this tournament possible. The proceeds go towards putting on various alumni events and to the 'Iolani Alumni Association Scholarship Fund.
Gold
Accuity LLP - Cory Kubota '92
Economy Plumbing/Island Wide AC - Kent Matsuzaki '81, Janson Young '99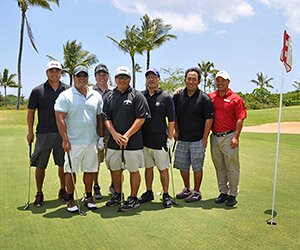 Asa Kajihiro '94, Daryl Yamaguchi '84, Rick Yokogawa '84, Brant Tanaka '84, Chris Yokohawa '84, Kimo Saito '97, Kalani Kiaaina '94
Silver
Aloha Shoyu Company - Brian Tanigawa '76
Dan Shiu '87   
Akinaka & Associates, Ltd. - Ken Kawahara '87
Pacific Architects - Dwight Mitsunaga
Pacific Links Hawai'i - Chris Lee '98
Tee
Aloha Beer Company - James Lee '74
American Savings Bank - Nelson Moku '91
Armstrong Produce - Matt Wagner '92
Benn Pacific Group, Inc. - Trevor Benn '92
Big City Diner - Lane Muraoka '80
Dr. Scott Hirashiki '81, Chiropractor   
Ernst & Young, LLP - Mike Ching '89
Hawaiian Fight Gear - Andy Taam '81
Kai Hawaii, Inc - Ken Hayashida '79
Marcus & Associates - Kevin '88, Jason '89, and Brent '93 Nishikawa
N&K CPAs, Inc. - Alton Miyashiro '72, Brian Isobe '77, James Wong '88
The Cookie Corner - Angus McKibbin '75, Jim McArthur '75
The Orleans Hotel & Casino - Paul Liem