This Issue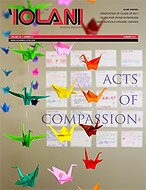 Acts of Compassion
Read the full story »
Summer 2011 - Cover Story
Doing What He Can to Help
Scott Imaye '91 has lived in Japan since 2000, works for a Japanese law firm, and is an adjunct professor at a graduate school in Tokyo. Through e-mail correspondence in late April, the 'Iolani School Bulletin  asked him a few questions.
'Iolani School Bulletin: Where were you when the earthquake happened?
I was in my office on the 18th floor of an office building not far from the Imperial Palace in Tokyo in the middle of the afternoon.
Experiencing earthquakes here is nothing new, but it was obvious after a few seconds—by the way our building was moving, the shaking, and the sudden jolt earthquake that came soon after the first—that this was different. It was something I had not experienced before. Having a window seat and looking outside, I saw taller buildings swaying back and forth. It was surreal, something that you only imagine in a movie.  Some papers and books fell. A painting on the wall fell with the glass shattering on the floor. A huge bookcase in the next office fell right onto someone. You could see cracks in the paint, dust all over and hear a lot of creaking from the building. However, nothing that serious.
One distinct memory is the voice of the emergency center in our building which said not to worry, this is only a level 3 earthquake, and the building is completely fine. Then seconds later, it became abundantly clear that this was not a level 3 earthquake.
Everyone reacted differently. Some people were laughing. Some people were clearly in a state of panic. We all hear about how buildings are built to be earthquake resistant, however, this is not a great consolation when you have difficulty standing or get knocked to the ground. However, at that early point, very few people thought about strong the earthquake must have been elsewhere. That changed in a matter of minutes once people starting hearing the news.
As for the tsunami, an 'Iolani friend in Hawai'i through Facebook posted that he was watching it live on TV. That was a shock. It was the first I heard of it. It was not until a few hours later when I saw everything on TV on every channel.
I think everyone has different memories based upon where they were at the time of the earthquakes and who they were surrounded by. Friends in lower level buildings, on the street, in the train have completely different stories to tell.
'Iolani School Bulletin: What are you doing to help?
At the moment, I am trying to raise funds by creating events at which people can voluntarily donate money. Whether the events are
hanami
events,outdoor gatherings, or others. In particular, donations are needed for specific purposes such as scholarship funds to hopefully ensure that people can get assistance sooner rather than later. I have also made efforts to gather certain donated goods and have sent them directly to an area in need. In addition, several friends have already gone up north to assist with cleaning up in some of the most damaged areas. We are trying to organize another trip at some point this summer.
'Iolani School Bulletin: What impact has this disaster had on you?
It puts a lot of things into perspective. Everything from the lack of accurate information, the spread of false information, overreaction, efforts by the government, etc. has been amazing to witness. Seeing how different people react—from foreign students, foreigners who work out here, and locals—is quite an experience. However, it has really made me feel that we need to do what we can to help, no matter how small.