This Issue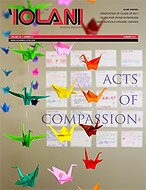 Acts of Compassion
Read the full story »
Summer 2011 - Cover Story
Disaster As Seen From a Tokyo News Desk
(Tokyo, Japan) — Friday, March 11 was a crisp and sunny spring day. That all changed at 2:46 p.m. when the strongest earthquake in Japan's recorded history struck. The 9.0 magnitude quake was centered off the coast of northeast Japan. It was by far the biggest jolt that I have experienced in nearly 17 years living and working in this country.
Within minutes, an even more deadly and destructive tsunami ripped across Miyagi Prefecture. Currently the death toll is around 15,000 with tens of thousands of others unaccounted for and presumed dead. Cruelly for many of the survivors, not only have they lost loved ones, there will be no closure. Many bodies will never be recovered as they were swept out to sea or buried under tons of mud and debris. 
The damage was felt all the way in Hawai'i, particularly on the Kona coast with tsunami waves arriving within a day.   
My heart goes out to all the victims. Following the quake and tsunami, a third threat emerged—the Fukushima Daiichi nuclear power plant faced the very real possibility of a meltdown. Workers desperately tried to cool down the reactors to prevent radiation from leaking. They now appear to have avoided a catastrophe. Still, Japan's Chief Cabinet Secretary has said it will take years to stabilize that nuclear plant.
While the impact in Tokyo was nowhere near the terrible suffering in the Tohoku northern Japan area, many foreigners living in the nation's capital, confronted with this triple whammy, chose to flee. Thousands clogged the terminals at Haneda and Narita airports, in an exodus to either their home country or to safer territory in southern Japan, stretching from Osaka to Okinawa. Hotel rooms were booked solid.
...as a fourth generation Japanese-American, I've always felt a bond to this country and the people. They have enriched my life so much over the years. I didn't want to abandon this place during its time of need.
The reasons for leaving were numerous. Many were pressured by well-meaning but panic-stricken family and friends overseas, who themselves were fueled by the often-times sensationalist coverage of the disaster. Those who are parents worried about their kids' health. While I certainly don't begrudge my fellow
gaijin
for departing, I was one of those who decided to stay. As a news anchor at NHK, I was fortunate to have access to all the latest information during this crisis. And from what I gathered, the biggest threat in Tokyo, the risk of radiation exposure, was completely overblown.
Besides, as a fourth generation Japanese-American, I've always felt a bond to this country and the people. They have enriched my life so much over the years. I didn't want to abandon this place during its time of need.
But it wasn't an easy decision. Some of my NHK colleagues disappeared: people I care about and respect. Japanese friends asked how come I wasn't packing my bags and running away. Someone came up with the witty nickname
flyjin
to describe those that left. Still I wondered, how do I know that I'm right and everyone else is wrong? Doubts creeped in. The internet was an invaluable tool during those first couple weeks after the initial quake. Online geiger counters showed that radiation in Tokyo had barely budged from ordinary levels. Facebook friends posted encouraging articles on why this was no Chernobyl, the worst accident in the history of nuclear power generation.
Still it was clear that Tokyo was no longer the comfortable, peaceful place that it had been prior to 3/11. People immediately began emptying store shelves of water, batteries, non-perishable food. Rolling blackouts led to irregular train service and darkened office buildings. Long lines formed at gas stations. While I knew deep down that the
actual
threat to our health was remote, it sure felt strange. The
perceived
threat was definitely there.
Stress levels rose nationwide as the Japanese government and Tokyo Electric Power Company appeared to be ad-libbing their way through the emergency at the crippled nuclear plant. Daily press conferences were vague with very few details on how the authorities planned to get a handle on the reactors at the plant. One of the most distressing things for foreigners living here has been trying to figure out what is accurate information. 
Soon, stories appeared about radiation found in leafy vegetables and raw milk. The ocean around the plant was measured to have 7.5 million times the government-set level of radioactive iodine. Hmmm, any level of radioactive iodine seems dangerous. But 7.5 million times of it? So we shouldn't be eating any sushi made from seafood in that area for the next 500 years?
What's worse is that even the experts would contradict themselves regarding whether the radioactive materials released from the Fukushima plant could spread to the general population. An announcement was made not to let infants drink tap water in the Tokyo area. That announcement would be retracted a couple days later. That was alarming for someone who's from Aiea and grew up drinking water from the green hose in the backyard (I never became sick by the way).
Through it all, it was reassuring to have friends who, just like me, were determined to maintain some kind of normalcy. We would meet for food and drinks, admire the pretty sakura cherry blossoms at the start of April, catch a baseball game. Right now it seems that daily life is gradually settling down.
Of course, the impact of this unbelievable disaster will not be measured in days or weeks but in years. Many of those little towns up north will probably never be rebuilt. Thousands of people have lost everything. Kids have no school to go to, because theirs' was destroyed. The Fukushima plant has been decommissioned. No doubt a slew of small and mid-sized companies across the country will go out of business.


Ross Mihara '81 was a sports anchor for KGMB in Honolulu from 1990 to 1994 and has been a news anchor with NHK World in Tokyo since 1994.
Your donations do make a difference. Whether it's to a giant like the American Red Cross or a local charity like Second Harvest Japan distributing food and blankets to evacuees, the outpouring of generosity from overseas has been incredibly heartwarming. Dozens of countries have sent rescue teams to the Tohoku region. We do live in a global village.
I understand that 'Iolani School has held several relief efforts. Thank you for getting involved! The people here are truly grateful. There's a quiet strength that flows throughout the Japanese archipelago. Japan WILL make it through this disaster and rebuild from scratch. Please pray for a country that has such deep ties with Hawai'i.  
Ross Mihara '81 is a news anchor at NHK World, which is broadcast in Hawai'i on Oceanic Time Warner channel 682 or online at http://www.nhk.or.jp/nhkworld.