This Issue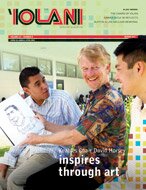 'Iolani's Endowed Chairs: Making a Great School Even Greater
Read the full story »
Spring 2011 - Cover Story
Why the Keables Chair?
Dr. Val Iwashita '67, right, presented Keables Chair David Horsey, center, with an honorary 'Iolani School diploma. Keables Committee Chair Frank Briguglio is also pictured.
Ask 'Iolani teachers, students, parents and alumni about the Keables Chair and each will have his or her own favorite Chair holder, perhaps several favorites. Each Chair holder brings the 'Iolani community together and helps teach something about the craft of teaching, about people, about the power of the written word, and about his or her areas of expertise. Whether it was Dr.
Don Johnson
in 1992 masterfully leading a class discussion of
John Donne
's
A Valediction Forbidding Morning
or novelist
Paul Watkins
in 1998 explaining that "writers sometimes have to exaggerate to tell the truth" or English teacher
Ellen Greenblatt
in 2001 encouraging teachers to design new courses or
Cheryl Hayashi
'85 in 2010 explaining that "Absence of evidence is not evidence of absence," all of the Chair holders share their knowledge and wisdom and lift their audience to a new level of understanding about their specific disciplines and their own lives.
The Keables Chair has flourished by bringing in educators from near and far, and from a variety of backgrounds. The Keables Chair is a worthwhile program on many levels, some distinct, tangible, sparkling, and obvious and some subtle, intangible and quiet.  Each Chair extends and continues the legacy of high standards set by Mr. Keables.
In January of 2012, poet
Taylor Mali
will be 'Iolani School's 25th Chair holder as selected by the Keables Committee. Mr. Keables would approve.
In the 25 years that the Chair has existed, there has been a wide and diverse range of people and each one has become part of the fabric of 'Iolani. To paraphrase a line from "Ulysses" by Tennyson, "We are a part of all that we have met." Master teacher
Jane Schaffer
in 1997 urged the English Department to establish a common terminology for teachers and student to use in order to discuss literature and writing, and in order to elicit original poetry,
Georgia Heard
in 1995 asked, "Where do you find poetry?" Dr.
O'Meally
in 2006 discussed
Toni Morrison
's
Beloved
with students by relating a conversation he had with the author about her books;
Lee Cataluna
in 2005 brought her Longs store stories to life with her endearing characters, and our most recent Chair Holder,
David Horsey
, assured us that "Good families are what's right with the world."
All the Chair Holders have had and will continue to have an impact on 'Iolani in ways that resonate in our classrooms, teaching strategies and memories. Poet Laureate
Billy Collins
, our 2007 Chair holder, said, "Even though people are driven to speed things up, poetry asks us to modulate, to slow down and make reading poetry participatory." That is what the Keables Chair does; it helps us to come together to participate in the on-going process of learning.
Frank Briguglio
Chair of the Keables Committee
'Iolani School