This Issue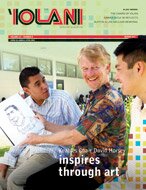 'Iolani's Endowed Chairs: Making a Great School Even Greater
Read the full story »
Spring 2011 - Cover Story
The Chairs of 'Iolani
Headmaster Dr. Val Iwashita recently said, "The endowed chair program at 'Iolani adds an important stimulus and dynamic to the campus that invigorates and inspires."
The first endowed chair to be established at 'Iolani was the Harold Keables Chair of English. Since its creation in 1982, its scope has expanded to include artists and teachers in fields both adjacent to and seemingly remote from English: history, mathematics, science and most recently editorial cartooning. All the chair holders, however, have shared the essential Keables skill: they all write.
The Keables Chair has led a double life for the past twenty-seven years.  On the one hand it annually brings a visiting teacher to 'Iolani for two weeks. On the other, it builds the endowment and solicits support to reach its ultimate goal, that of being a fully endowed faculty position that will be filled for a semester or even a year by a full-time chair holder. It is the only chair at 'Iolani that has such a mission.
An endowment at 'Iolani School is started with a gift of $50,000 to the school and can be fulfilled over three years.
The Keables Chair blazed the trail for those who followed:
The Tam & Young Visual and Performing Arts Chair


Thanks to the Tam & Young Chair for Performing and Visual Arts Pulitzer, Isabel Wilkerson spoke to students and teachers and held a public lecture on January 7. She is the Pulitzer Prize winning author of The Warmth of Other Suns: The Epic Story of America's Great Migration, which made the New York Times list of the top ten books of 2010.


New York Times music writer Nate Chinen '94 spoke to students on listening to their inner voice and also held a public lecture the Hawaiian music industry. He was a guest of the Tam & Young Chair for Visual and Performing Arts.
This chair came to 'Iolani in 1999 as a fully endowed gift from the Tam and Young families. It supports an annual visiting artists program.  With its focus on the arts, K-12, it has brought a rich diversity of artistic enrichment to every grade.
Visitors range from performing artists such as the Ahn Trio, the cast of The Lion King, or acrobats who dance in the lower school while suspended from trees to the historian Isabel Wilkerson, Pulitzer Prize winning journalist and author of the acclaimed account of northern migration,
The Warmth of Other Suns
. Another highlight was the visit of
Nathan Chinen
, '94, a jazz writer for
The New York Times
and an enthralling teacher and speaker.


Emmy Award winning actor Michael Emerson talked to 'Iolani theater classes about his career as a stage actor. During the 2009-2010 school, he was a guest of the Tam & Young Chair for Performing and Visual Arts, recently starring in the hit television series Lost.
The chair hosts over a dozen events a year in vocal, visual and literary arts.  Faculty members nominate people to serve as chair holders. A selection committee, led by Dean of Studies Dr.
Carey Inouye
'66, approves all nominations and seeks candidates who serve all of 'Iolani's students as well as teachers, staff members, and families. Life at 'Iolani is richer and deeper thanks to the Tam & Young Chair.
The McDermott and Oda Chair in Communication and Journalism
Through his travel writing author
James McDermott
opened minds to the joys of voyages, both real and literary. In 2000 he and some like-minded associates, including
Stephen Oda
'61, created an endowment to provide opportunities for students and teachers to learn more in the areas of writing and communication.
In the past eleven years, the chair has brought speakers to campus and allowed journalism students to travel to the mainland for workshops.  For example, travel for five students to the 2008 Journalism Education Convention in Anaheim, California was provided by the McDermott and Oda Chair. At the convention, 'Iolani students received several national awards for their work. It has been of particular benefit to the school newspaper,
Imua 'Iolani,
which was named Hawai'i's Best in State student newspaper in 2008.  The chair offers young journalists valuable experiences in both print and non-print media.
The 'Iolani School Economics Chair
This, the most recently created chair, offers students, teachers and parents opportunities to learn from prominent thinkers and doers in the field of economics. It also sustains the school's commitment to economic education as reflected in the five economics courses currently offered and in the perennial success of its economics teams in national competition.
Cornell University's Dr. Robert Frank, an accomplished author and economics consultant, was 'Iolani first Economics Chair holder. He also writes a column for the
New York Times
. He taught classes and held a public lecture in November 2010.
In 2010 the chair hosted Cornell professor
Robert Frank
,
New York Times
columnist and author of six books on economics. Professor Frank spent four days at 'Iolani meeting with classes, teachers and giving a public lecture.
The 2011 chair holder is
Charles Wheelan
from the University of Chicago and author of
The Naked Economics: Undressing the Dismal Science
, a refreshingly accessible approach to what some consider a daunting subject.
As part of 'Iolani's commitment to the community, the Economics Chair Holders have held lectures in Seto Hall that were free and open to the public.