This Issue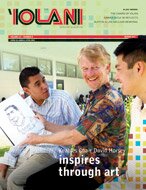 'Iolani's Endowed Chairs: Making a Great School Even Greater
Read the full story »
Spring 2011 - Cover Story
The Cartoon Connection
One of them was Seabiscuit, the crooked legged, underdog of a race horse that won the Triple Crown back in 1938. Father
Kenneth A. Bray
, founder of the school's athletic program, told his students all about Seabiscuit to inspire them.
In 2011, another horse has inspired the 'Iolani community, except this one has two straight legs and has won Pulitzers, not Triple Crowns. He was journalist
David Horsey
, also an editorial cartoonist and storyteller, who was this year's Keables Chair Holder and who served a two-week teaching residency at 'Iolani.
"...the imagination that powers the comment, and the artistic talent that executes it, are keys to a cartoon's effectiveness."

A native of Seattle, Horsey is Hearst Newspapers' two-time Pulitzer Prize-winning editorial cartoonist and columnist who is based at the
Seattle Post Intelligencer
. His cartoons, columns and multimedia reporting are found at his web site, www.davidhorsey.com.


A reception for faculty, staff and Keables Chair supporters was held on Feb. 3 to honor the legacy of Harold Keables and Keables Chair David Horsey, seated center. Nearly 200 people attended, including Headmaster Dr. Val Iwashita and Member of the Board of Governors Thomas B. Fargo as well as kindergarten teacher Boni Gravelle and Cynthia Iwashita, both seated.


Student Marisa Chow '12 was one of more than two dozen students who danced a lovely hula at the Keables reception.
At 'Iolani, however, he could be found in classrooms throughout campus, teaching students in all grade levels, even kindergarten. He pulled from his extensive library of editorial cartoons and knowledge of history, politics, government and world affairs.
"David Horsey was just brilliant," said art teacher
Cheri Keefer
. "He asked the fourth graders to describe an 'Iolani student so he could draw one and the input and feedback was amazing. He created a hawk carrying a surfboard at the beach. He really out the school pride and artist in all of us."
"A wise editor once told me that, 'Every stranger has a story to tell,'" Horsey told students.

'Iolani students know talent when they see ti. Horsey won the Pulitzer Prize for editorial cartooning in 1999 and 2003 and was a finalist for the prize in 1987. In 1998, he received the National Press Foundation's Berryman Award for Cartoonist of the Year. His multi-faceted career has taken him to national political party conventions, presidential primaries, the Olympics, the Super Bowl and on assignments in Europe, Japan, Mexico and Washington, D.C.


David Horsey and his wife, Nole Ann, met with Upper School science teachers following his Power Point lecture on the public's misperceptions of science.
He received a bachelor of arts in communications from the University of Washington where he was editor of the student newspaper,
The Daily.
As a Rotary Foundation Scholar, Horsey earned a master of arts in International Relations from the University of Kent at Canterbury (U.K.). In 2004, he was awarded an honorary doctorate by Seattle University.
During three decades at the
Seattle Post-Intelligencer
, Horsey received 17 first place regional awards from the Society of Professional Journalists for cartooning, governmental reporting and spot news reporting, as well as dozens of other awards from different journalism and community organizations.
At 'Iolani, he presented lectures for large audiences of students in Seto Hall. In one, he depicted the general public's erroneous perceptions of science through editorial cartoons on topics such as global warming, the environment and human cloning. In another, he shared his MSNBC.com series Escape to America, which depicted slices of American culture in places off the beaten path.


Fourth graders hold up the 'Iolani hawk cartoon that David Horsey originated for them.


David Horsey leads an art class for enthusiastic fourth graders. "This is so much fun," one student exclaimed.
"A wise editor once told me that, 'Every stranger has a story to tell,'" Horsey told students.
With an intimate and powerful writing style, Horsey proved the editor right with perspectives on an animal shelter in Arizona and a synagogue on Venice Beach.
David Horsey created this editorial cartoon for Hearst Newspapers while serving as Keables Chairholder at 'Iolani. The
Honolulu Star Advertiser
also ran the cartoon on February 2.
With students in a History of the 60s class, he shared insight into his cartoons on presidential campaigns, and then spontaneously drew an editorial cartoon of
Nixon
and
Kennedy
facing off in a TV debate. 
"Do you think your cartoons are biased," one student asked.
"Yes!" he answered.
His job is to express his opinion through art, to stir ideas and get people talking. He doesn't expect everyone to agree with him. In fact, he knows his cartoons may anger some, but we live in a country where we have the freedom to express our opinions.


David Horsey teaches a creative writing non-fiction writing, explaining how newspapers once were lucrative businesses but now the Internet has changed the business model for all media. (Photo: Cathy Lee Chong)

His job is to express his opinion through art, to stir ideas and get people talking.

While teaching a War in the 20th Century class, and showing some of his cartoons depicting war in the Middle East to mostly eleventh and twelfth graders, he encouraged the class to challenge his ideas, to disagree with him if they believe differently. Editorial journalists seek to encourage the exchange of ideas.
Students in Lower School, however,  liked the cartoons simply because of the cool art and charicatures. The young ones clamored for his autograph while shouting out his name, "Mr. Horsey! Mr. Horsey!" All of the attention was like fans greeting a rock star. For kindergartners, using only a pen, a blank piece of paper, and the imaginations of 70 kids, he invented an oddly shaped animal with eyes and huge stomach.


David Horsey showed them that the art of charicature is to capture unique qualities about a person's face. As examples, he drew teachers. Left to right, computer Dalton Sue, David Chun '80, Dean Yonamine '83, Horsey, Cheri Keefer and Catherine Fuller '84.
"Editorial cartoons are opinions expressed in art," he once said. "Cartoons are valued most highly in journalism circles for the substance of what they say. But the imagination that powers the comment, and the artistic talent that executes it, are keys to a cartoon's effectiveness."


Dean of Studies Dr. Carey Inouye '66 spoke at the Keables reception about his memories of being a student in a class taught by Harold Keables. The inspiring teacher made the young Inouye want to become a writer.
BBF Wilkerson
One of the highlights during the Keables weeks is a free public lecture. Horsey spoke in Seto Hall on America's Fractured Politics on the evening of February 1 to nearly 300 people from throughout the community. in Seto Hall.
His visit may be over, but the impact of his residency has been as indelible as permanent ink. A natural teacher armed with a wealth of stories and experiences, he carried on the teaching legacy of Harold Keables. Horsey demonstrated that cartoons connect people and that a love for learning can be planted with  simple seeds like pen, paper and creativity.