This Issue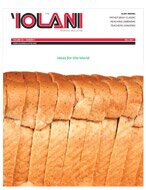 Ideas for the World
Read the full story »
Fall 2011 - Cover Story
| Ideas for the World
Mark Grozen-Smith '11
Why did enter the first level of the competition at 'Iolani School?
It sounded like a really good glimpse into the world.


How did the idea for a cooling bracelet come about?
I remember being a 10-year-old soccer player and feeling like my face was melting off and wishing I could cool down during a game. I remembered Papa Jack (biology teacher Jack Kay) told my class that when he was a football coach he had his players put ice cubes on their wrists to cool down quickly because blood runs through those veins.


What kept you inspired and motivated during the long course of the project?
A lot of what kept me going was my hope to make the efforts of  (mentors) Doc Carey Inouye '66, Chris Shimabukuro '85, Robert Dawson, and Leighton Ige '01 (based in Hong Kong) worth their while.


When in Hong Kong, how did you remain focused while so far from home?
We're 'Iolani kids but none of us are the bookworm, nerdy stereotype. We have a lot of fun. So we had fun with Leighton, Doc, each other, and the other contestants, but we were also constantly practicing our presentation in our heads and discussing various weaknesses and possible improvements throughout the day.


What do you think gave your team the winning edge?
The simplicity of the endeavor because no one doubted that we could certainly pull off this company which is enticing to a venture capitalist.  Our wide market: everyone from 10-year-old soccer players to 45-year-old runners would want our product. Our energy: we worked hard to make sure every word was filled with passion and commitment.


Describe the most memorable part of the journey to the championship?
It was late August 2010. The deadline for the 'Iolani competition was a week away and we had nothing written. I ran into Mr. Chris Shimabukuro. "How's the plan coming?" he asked. "Not great," I replied shamefully, "I don't think we're going to finish this one."  "Really? We (the judges from the early rounds) were talking about it and we were really excited to see what you guys came up with. At least turn in something and see what happens." That 30 second conversation fueled my determination and, later that day at polo practice, I called to Zalman across the pool deck telling him that we WERE going to finish it. So, the three of us met that weekend, worked for many hours and, after numerous Google searches and a few TV football game breaks, we were set to turn in the plan the next day. I can't believe we almost didn't finish. I'm really grateful to Mr. Shimabukuro; all our lives would be very different if not for those few words.

Comments from Readers
No comments yet.
Be the first to share your thoughts!