This Issue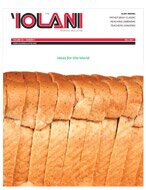 Ideas for the World
Read the full story »
Fall 2011 - Cover Story
Ideas for the World
Mark Grozen Smith '11, Guthrie Angeles '12 and Zalman Bertstein '12 look at a view of Hong Kong Harbor.
Three 'Iolani students had an idea.
They took their idea and their business plan to an international competition in Hong Kong this past summer. They had earlier won an 'Iolani School Entrepreneurship Challenge back in October 2010.  It was a big responsibility for these young men to represent not only 'Iolani School, but the state of Hawai'i and the United States. They came back from Hong Kong with lifelong memories. They experienced unforgettable global experiences. They made friends from different countries and continents.
Oh, and they also won first place.
The contest was the 2011 Hong Kong Polytechnic University Innovation and Entrepreneurship Global Student Challenge which on June 16. The 'Iolani team of
Mark Grozen-Smith '11
,
Guthrie Angeles '12
and
Zalman Bernstein '12
won the Secondary School Division Gold Award as well as the Health and Wellness Theme Award.
The competition attracted 191 teams from 27 different countries in Europe, Asia Pacific, and greater China, in secondary school and university divisions. The 'Iolani students called themselves Team Oasis and their winning idea was to create a business plan for an original athletic cooling bracelet which provides athletes and non-athletes with a comfortable way to stay cool during workouts.
Accompanied by 'Iolani Dean of Instruction Dr.
Carey Inouye
'66, the students explored their innovative and entrepreneurial potential. They gained exposure to the business world, and experienced a unique platform for international academic, cultural and professional exchanges.
The three teammates came from different backgrounds with different perspectives and personal interests. They learned to work well together and gained an appreciation for mutual understanding and intellectual exchange. All of these real world experiences are examples of what 'Iolani strives to offer through innovative programs and hands on learning opportunities.
The journey to the world championship is expressed through their own words.